Beauty and Skin Care Tips

putting your best face forward
Surprised by what you see when you look in the mirror these days?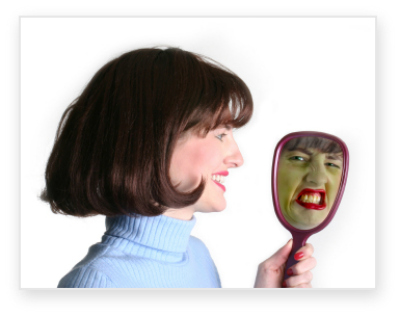 You can look better!

W-A-Y better!
Beauty tips and grooming practices play a very important role in your overall appearance.
Begin by critically analyzing your complexion.
Then honestly assess how you look overall.
You will then be able to identify all the areas that could use a little special attention.  So, get out those beauty treatments, anti-aging skin care products and give yourself some well-deserved TLC.
                so what's in your beauty                 toolbox?
Be sure it's well stocked with all the best. . .
Beauty and Skin Care Treatments
Just by making a few very simple changes to the frequently overlooked and underestimated areas can contribute dramatically to improving your overall appearance.

Haul up those big girl panties and. . .
---
be brave!
---
Study your appearance very objectively in order to develop an honest assessment of what areas need improvement.

Some of the best beauty and skin care tips are simply helpful hints that can produce wonderful results that are just common issues that most people seem to overlook as the years go marching by.

Embarking on a skin rejuvenation regimen is a big step in putting your best face forward,

BUT. . .

be sure to address other grooming and beauty concerns that impact your overall appearance as well.
You won't even need a magic wand, just a little pluck here and a little trim there. 
It's really not all that hard . . .
honest!


---
beauty and skin care tips, techniques and grooming advice. . .

---
Start with these are 3 top recommendations from beauty experts:

Although the entire world of cosmetologists and aestheticians will undoubtedly cringe with this recommendation BUT if you have a few of those long, coarse, dark hairs that have begun to sprout up here and there on your face and chin, a little judicious plucking will improve your overall facial appearance.

If your facial hair growth has exploded beyond control check out all the effective options available to you for the best hair removal methods or consider a visit to a spa or salon for a professional treatment. If the tiny hairs above your lip have gradually begun to darken and have started to take shape as a mustache, think about bleaching it or have it professionally treated at a spa or salon.

There is nothing worse than a smile that reveals old, yellowed chompers. Fortunately, over-the-counter teeth whitening products are quite effective and affordable. However, these products can take as long to see results as a good skin rejuvenation plan, so get started now! The overall effect is well worth it.



use make-up judiciously and effectively!
Visit a cosmetic counter in a higher end retail store like Sephora who frequently offer free makeovers and learn about all their beauty and skin care tips and antiaging skin care beauty treatments. It is amazing to see what striking effects a few subtle cosmetic strategies can produce.
---
Now you're on a roll and doing great!
---
Sure, there is much more to do but you've gotten off to a great start already.
This isn't so bad is it?  
Take a deep breath, just a few more essential tips to get through and you'll be looking fabulous in no time at all. . .
Now ask yourself. . .
Are you styling?
Is your hairstyle as current and as flattering as possible? Have you made any effort to accentuate any gray you might have to the best advantage?
Again, a few consultations at a salon can give you some great, beauty and skin care tips and ideas!


Overgrown, bushy eyebrows benefit tremendously from a strategic shaping-up and lend a startling effect to your overall appearance.

If plucking is not for you, or if you need to get yourself off to a good start, add this to your list when seeking professional intervention at a salon. An initial waxing and shaping will lay the foundation for you to easily care for your eyebrows by yourself in the future.


 Facial scars can be minimized by using a product such as Mederma , which is recommended by many plastic surgeons. Like many other antiaging skin care and beauty treatments, diminishing the appearance of facial scars can take several months and frequently as long as a year. But if you have a facial scar that bothers you keep at it, it's worth it in the long run!


Not the most pleasant issue to address, but an extremely important beauty tip all the same. Another unfortunate side effect of age can be the thickening and lengthening of nasal, chin, upper lip and ear hair for some people. A little trimming and plucking now and then will create a more polished and cared for appearance.  You'll need a magnifying light-up mirror to see them all!  (Trust me on this. . .)


 Do your eyes get tired and sore quickly? Do they take on a blood shot appearance that gradually becomes more pronounced throughout the day? Eye soothing "tears" can be purchased just about anywhere that Visine is sold. Taking care of bloodshot eye redness presents a much brighter, more refreshed appearance. 

How about your getting the most rejuvenating beauty sleep possible? Did you know that by simply changing your sleeping position can quickly and easily reduce wrinkles as well as prevent them from occurring in the first place?

Best Beauty Product Reviews and Tips
---
Now you are already to:

---
---

It's Your Turn!
Will YOu Share Your Best Beauty Tip?
What is Your Most Helpful Beauty Tip?
Do Tell!
Or ask the Beauty Tip Forum for advice!
Help and be helped...

Read on to Discover all the Best Beauty Tips!
Learn about everyone's favorite and most helpful beauty tips.
Don't forget to see what comments visitors have made as well!

Click below to see contributions from other visitors to this page:

See?
That wasn't so bad was it?
With so many great beauty and skin care tips you just can't go wrong!
So don't let yourself be totally shocked the next time you look closely at yourself in the mirror. Pamper yourself a little. Indulge yourself a bit so you always put your best face forward.
You're worth it!


---
Search for the beauty treatments and tools you need to get yourself absolutely gorgeous:

---
Have a Beauty Filled Day!
Search This Site: