Skin Care Book
homemade natural anti-aging skin care recipes
The first DIY natural skin care book to exclusively feature homemade facial treatments that are extremely effective in rejuvenating skin while addressing a range of specific aging skin care issues.
Now available in paperback!
Naturally Skinsational ~ Rejuvenating Skin Care Recipes shows you how to harness the power of nature for beautiful, younger looking skin simply by using common ingredients already in your refrigerator and pantry. 

Natural skin care promotes beautiful, healthier, younger looking skin.
---
---

And best of all, making your own anti-aging skin care treatments works to give you younger, healthier and amazingly beautiful skin! 

In partnership with Amazon.com, The Skin Care Resource Center is pleased to offer our popular DIY skin care recipe book in paperback.
You can make effective, natural rejuvenating facial treatments yourself for just pennies!

Making your own skin care treatments is ridiculously quick and easy too!  

Get Naturally Skinsational Today
Skin care recipe book 


---
Learn all about Mother Nature's secrets!
---
Mother Nature has more hidden treasures than we'll probably ever know about.

For natural skin care there are so many powerful and effective rejuvenating options it can actually boggle the mind!
Nature provides us with an amazing selection of natural ingredients that will effectively treat just about any skin care issue.   And many are already in your refrigerator and pantry!

Natural remedies were the only resource available to ease pain and treat ailments in early civilizations. Many of the most effective natural ingredients can be found in herbs, flowers, tree bark, honey and even seaweed.
The natural healing powers of natural ingredients are still used today as the foundation of nearly 80% of modern medicines and treatments.

Let's take a journey back in time to ancient herbal lore when the only remedies for physical afflictions came from nature. What was once considered downright "witchery"!

The magic of herb lore is much better understood today. The modern view of skin witchery is nothing other than putting the power of nature to work on addressing concerns regarding the skin. There really isn't any "witchery" involved.

It is simply a matter of putting the knowledge of herbal lore to work on addressing skin care issues. . .
Because natural skin care WORKS!
Remarkably well in fact.

For example, the Naturally Skinsational skin care book teaches how to put the power of fruit acids to work in dozens of recipes ranging from toners, rejuvenating facial masks to an active rejuvenating ingredient in a homemade moisturizer.  
The natural acids in fruits are used as a potent anti-aging ingredient in many natural skin care recipes including:

Malic acid: Apple, vinegar and cider
Tartaric acid: Grapes, wine, and tartar
Citric acid: Citrus fruits such as lemons, lime, grapefruit and oranges

One of the simplest natural skin rejuvenating recipes of all is a fruit acid toner.
Simply squeeze the juice from any of the fruits listed, saturate a cotton ball and swab the surface of the skin then rinse briefly with warm water.
---
. . .and so much more!
---
Happy Rejuvenating!

---


Get your own skin care book. . .

And start mixing up your own rejuvenating treatments.

---

We'd love to include your special natural skin care recipe on this site for all those avid natural skin care chefs interested in rejuvenating homemade facial treatments.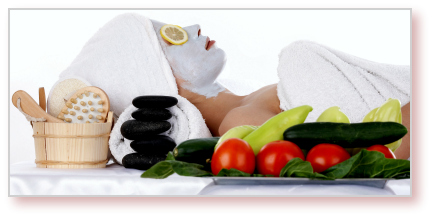 Be sure to come back often to check out the ever-growing collection of homemade natural skin care recipes submitted from visitors to this site from all around the world!  We publish each natural anti-aging skin care recipe submitted as your very own web page right on this site for all to enjoy.

Take a peek at all the quick and easy Natural Skin Care Tips submitted by you and other DIY skin care enthusiasts or sit back and kick-up your feet while you watch Jill's video demonstrating her rejuvenating and relaxing favorite homemade beauty recipes!


---
I'd also like to invite you to sign-up for the Skinsational News for tips, the newest rejuvenation techniques, anti-aging treatment strategies, and the new, emerging products to keep your skin looking its healthiest and youthful best.
Search This Site: