Your Skin Care and Anti Aging Questions
ask away!

Do you have questions about a treatment, product, spa tool, techniques, strategies or what the most effective anti-aging routine is for your skin type?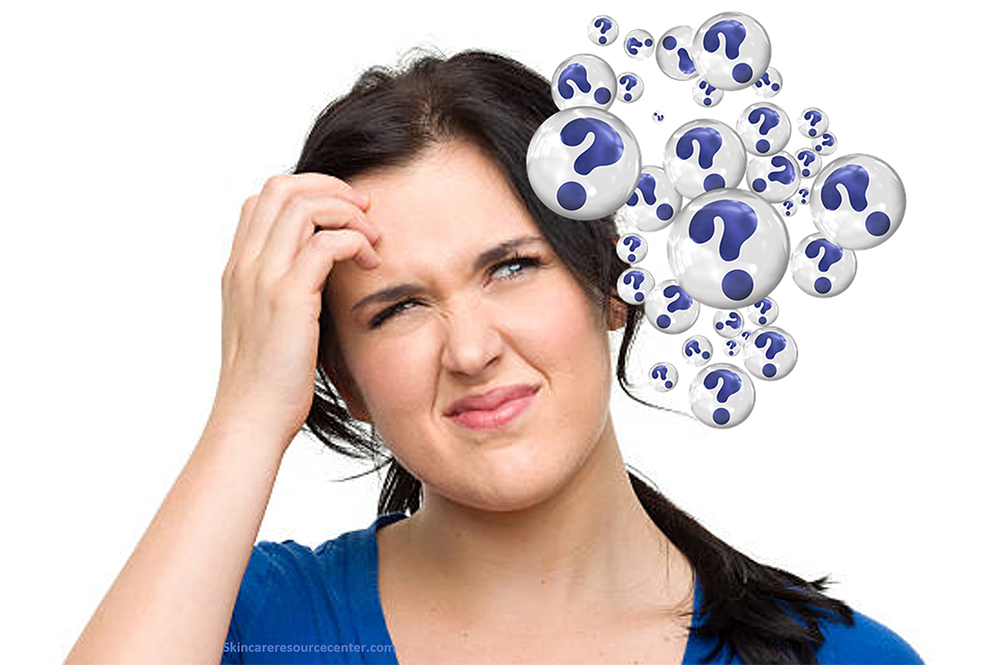 Wonder no more.
This is the place to share your thoughts, concerns, and ask whatever questions you have regarding the best practices and treatments for effectively rejuvenating aging skin.
Ask Right Here
---
we'd love to hear from you and learn what skin care and anti aging questions you have so we can give you answers. . .
---
I'd love to include the anti-aging topics you are interested in learning more about in the monthly issues of the Skinsational News.
To be honest, it seems to have taken me quite a long time to reach this Ah Ha! moment. (I do sincerely apologize for that by the way.)  Do you know that every week I receive many emails asking about any number of issues related to skin care?  Many have formed the outline for creating a new page on the topic of the question I received or writing it up in an article in the newsletter.


For example. . .
Jodie wrote not too long ago about her interest in the knowing more about the growing controversy on using stem cells in anti-aging products.

Sara wanted to know which antiaging skincare products would work best on her blossoming collection of age spots.
Rachael was curious to know more about the natural anti-aging properties of organic Shea Nut Butter.
Alex would like, in his words, for the site to provide ". . . w-a-y more information on men's skin care treatments and strategies."
Bethany adores her home spa tools but would like to know which ones provide the most bang-for-your-buck.



Well, I finally had a very belated epiphany.  (It sure took me long enough, didn't it?)
Skinsational News is written just for YOU!
You see, each time I send out the newest issue of the newsletter I sincerely hope that I have selected skin care topics that you are curious to learn more about and, of course, I always hope that you find each and every issue interesting and helpful.  
So here's my epiphany. . .


---
Tell me!
ask your skin care and anti aging questions right here
---

Honestly, I should have asked you to share your thoughts, ideas, and suggestions on skin care rejuvenation a long time ago.  Then I wouldn't have had to hope that I've covered topics that you are curious about. (I've already given myself several dope slaps over this!)
It's such a simple and obvious solution, isn't it?
So, what skin care and anti aging questions do you have?
What topics are you interested in learning more about?  


---
Do tell!
---
I'd love for you to share them.  

I can't tell you how much I am looking forward to writing articles on your suggestions and including them in the monthly newsletters.

And who knows, when you comment on any of the topics that others have suggested (and I hope you do!) your experiences (the good, the bad and the ugly), suggestions, and advice may be published in the newsletter as well as on this site!
Wishing you a Skinsational Day,

Sue


P.S. If you have a minute, I've also created a feedback survey so I can learn how to best provide the information that interests you the most.  It will take just a few moments, I promise! 
Please send me your feedback here. 

Your Skin Rejuvenation Questions
Ask your questions, share any confusions you may have, express concerns, or share how you resolved a pesky skin care issue with the technique, tips and strategies you used right here. (You never know, your question may be featured in our next newsletter!)

And please feel free to help others by responding to their posts to share your advice, experiences, successes, and (don't feel bad, we all have them) your dismal failures.

Thanks for sharing!

Note: Please read the helpful guidelines you will find by clicking on the question marks.
What Other Visitors Have Said
Click below to see contributions from other visitors to this page...

Read on to see the questions, answers, suggestions, and advice others have shared. Please feel free to offer your comment or advice on any of the posts.

Ask away and share your thoughts. We'd all love to learn from your skin care experiences too. . .

Help and be helped!
Search This Site: