Broken Spider Veins
I have broken spider veins on both sides of my mouth.


I have a very difficult time trying to cover them. Is there anything I can use in homemade skincare to get rid of them?
PLEASE HELP!!!!
Sue's note:
Personally, I find that broke capillaries are one of the hardest skin symptoms to treat effectively, especially if they are related to rosacea.
Two options are to try products with vitamin K as well as DIY home IPL laser treatments.
Other Resources: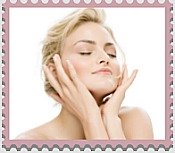 Read More About Favorite Beauty, DIY Home Spa and Facial Rejuvenation Treatments:
See more great
Beauty Product Reviews
and recommendations for the anti-aging skin care treatments that work!
Favorite Beauty, DIY Home Spa and Facial Rejuvenation Treatments: