Homemade Facial Scrub
DIY natural exfoliating scrub recipe uses the powerful attributes of pineapple, papaya and pumpkin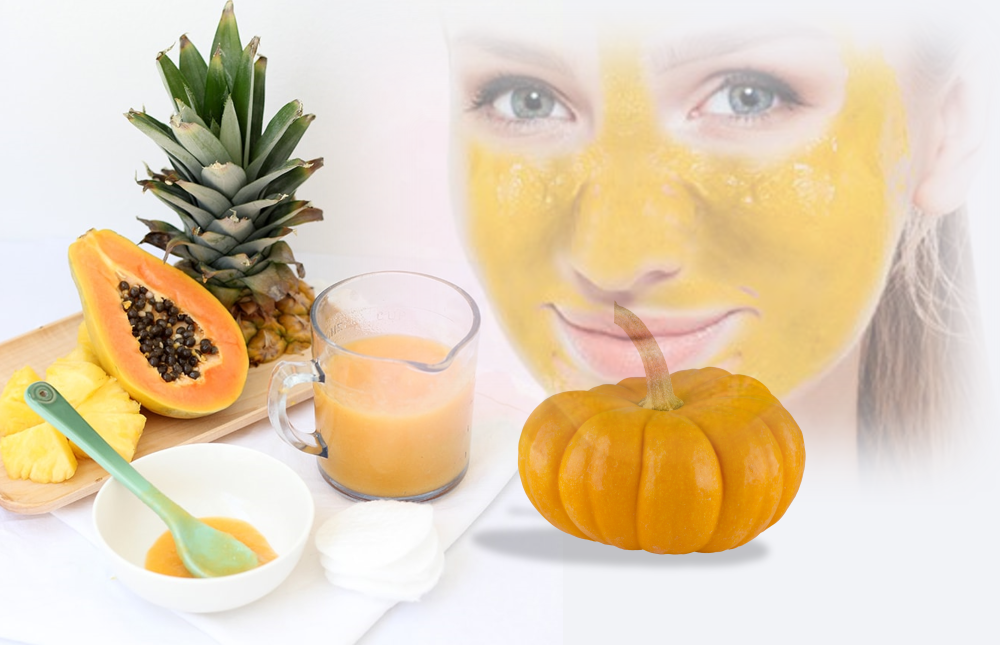 The 3 "P" Power Scrub is simply the best exfoliating treatment that combines the potent rejuvenating attributes rich in powerful antioxidants and enzymes of three common fruits for an exfoliating homemade facial scrub skin care recipe that is a favorite of high-end spas and celebrities alike.  
---
Facts of the heavenly 3 "P's" exfoliating homemade facial scrub
---
The anti-aging properties of the pineapple, papaya and pumpkin work in concert to effectively and naturally rejuvenate aging skin making these three fruit an excellent choice for a homemade facial scrub.



Pineapple
Pineapple is a natural source of the enzyme bromelain which is used medicinally to promote healing, reduce bruising, inflammation, swelling and pain.

The natural fruit acids work to help slow down the ageing symptoms of the skin. 

This naturally potent antioxidant is a rich source of vitamins A, B1, B6, and C all of which help to reduce free radical activity, is a source of minerals, vitamins including potassium, citric acid and folic acid.
As an alpha-hydroxy fruit acid, pineapple exfoliates dead skin cells, stimulates skin repair and collagen production which reduces facial wrinkles.
skinsational tip
Vitamin C synthesizes amino acids and collagen. As we all know, collagen is one of the primary building blocks for plumping sagging skin and reducing wrinkles.

papaya
Papayas have quite powerful medicinal properties. As a matter of fact, every part of the papaya plant can be used medicinally.

Rich in vitamins A, B and C, as well as in calcium, phosphorus and iron papaya is used to treat many skin disorders including acne, warts, and corns.  It is also used to reduce swelling and promote healing.

pumpkin

Pumpkin has natural healing properties, is an excellent organic source of vitamin A, C and E as well as rich in beta-carotene, antioxidants, amino acids and minerals.  

It is a skin softening agent with emollient attributes and is used as a natural cure for burns, and other skin inflammations.
All three of these potent "P" fruits are exceptionally strong fruit acids which work to remove dead skin cells that collect on the surface of the skin giving it a dull, dry appearance.

Fruit acids penetrate deep though the layers of skin to increase the rate of new skin cell regeneration and collagen formation, making them an extremely effective natural ingredient for an effective DIY exfoliating treatment suitable for most skin types.
Sugar cane is a natural source of glycolic acid. The sugar also provides an abrasive quality to the scrub to completely polish the surface of the skin for complete exfoliation.


---
3 "P" Homemade Facial Scrub 
Exfoliating Treatment 


1 cup diced pumpkin (skin, seeds and pulp)


1 cup diced papaya (skin, seeds and pulp)

1 cup diced peeled pineapple


2 tablespoons Extra Virgin Olive Oil (or your favorite organic nut oil)


2 to 3 cups water


1/3 to 2/3 cup organic cane sugar (or granulated table sugar)


Combine water, olive oil and pumpkin in saucepan over medium heat and simmer until fruit becomes soft.

Add the papaya and simmer for several more minutes until soft. Turn off the heat and add the pineapple.

Allow to cool completely. Drain liquid and reserve. Process the mixture in a food processor or blender until smooth, thick and creamy. (If mixture is too thick, slowly add enough of the reserved liquid for desired consistency.)

Stir in sugar and mix together completely. (The amount of sugar can be adjusted to create the desired abrasiveness for your skin type.)
Use to scrub gently scrub facial skin once to twice a week. Freeze the excess natural scrub mixture in small containers or ice cube tray for future use.


Include a few homemade facial scrub and natural skin care treatments into your anti-aging skin care regimen every week for healthier, younger looking skin. After all, making your own skin care treatments are insanely cheap, quick, easy and best of all, extremely effective.
With prolonged use, a homemade facial scrub exfoliating treatment made with natural fruit acids is clinically proven to significantly improve the appearance of aging, sun damaged, dry, rough skin, treating age spots, rebalancing oily skin and effectively treating acne prone skin types.
have fun trying some of our other favorite natural skin care recipes or get. . .
---
Do Share!
---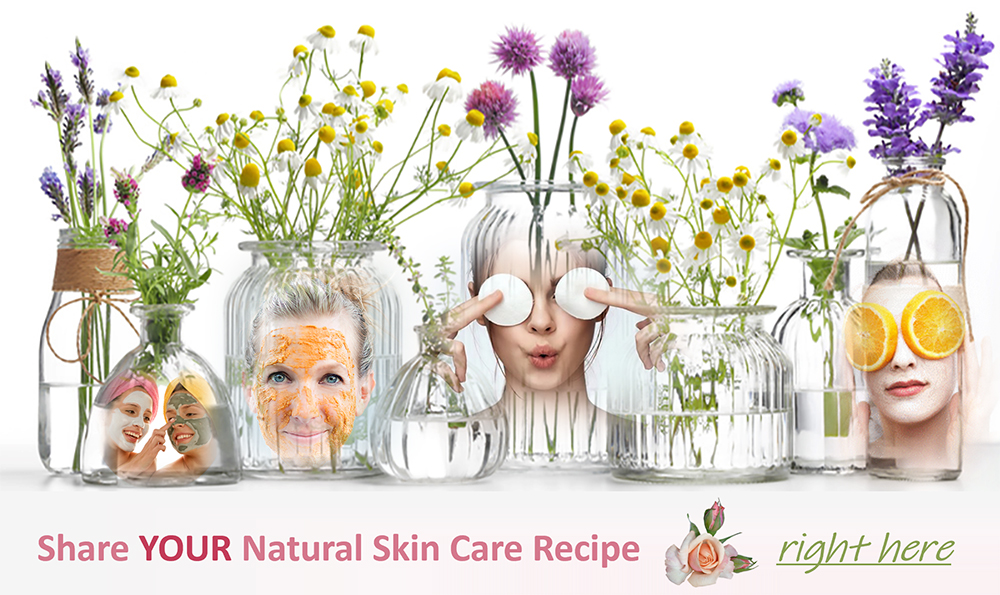 Take a peek at other visitor natural skin care recipes and tips.
---
or, of course, (for those lazy days) you can always supplement your homemade recipes with a few quality natural skin care products.
---

quick search for all natural organic skin care treatments


Search This Site: