Green Tea Cleanser and Toner Recipe
quick and easy "Tea Thyme" skin cleanser and toner
Jinni describes her Tea Thyme Recipes as a refreshing, invigorating breath of spring for the skin.

---

Thank you for sharing Your Green Tea Cleanser
and Toner Recipes 

Jinni!




---
This green tea cleanser and toner recipes are as simple as they come to make and really serves to stimulate as well as to protect the skin.

Although Jinni doesn't have a garden, she does find that thyme as well as many other herbs grow quite well right on her kitchen windowsill!
This combination makes a great rejuvenating cleanser and toner recipe for all skin types but is especially beneficial for acne prone and oily skin as well as delivering the perfect cocktail of vitamins, nutrients and minerals for aging skin.

Jinni explains that tea, especially green tea, is a natual anti-bacterial rich in vitamins, minerals and antioxidants.

The medicinal properties of thyme are especially well suited for sensitive and reactive skin types.  Jinni adds that she also uses the toner recipes as a compress for inflamed, irritated skin as a calming and healing agent.  It is an especially beneficial treatment for sunburns.

Jinni uses this toner herbal recipe as a compress as a natural remedy for sunburns because it promotes healing and is quite soothing. All she does is dampen a cloth with the toner, pop it in the freezer for 10 minutes and she is rewarded with instance relief from her sunburn.
It's about Thyme: Fact Sheet
Thyme is one of the best-known medicinal herbs, used around for world for centuries, due its wide range of healing powers and treatment applications.  This small evergreen shrub actually dates back to the Egyptian era.
Used as a potent source of essential nutrients like vitamins C & E, minerals, antioxidants, phytonutrients, polyphenols, lutein, zeaxanthin, and thymosin which work to provide numerous health and beauty benefits with its extensive properties including:
One of the best natural antibiotics for skin infections

Powerful Antioxidant

Anti-bacterial

Anti-inflammatory 

Anti-fungal 

Anti-septic

Astringent

Stimulates and improves circulation


Effective acne and skin infection treatment can be more effective than using OTC creams and lotions

Protects cells and tissues from oxidative stress caused by skin damaging free radicals 

Rejuvenating Green Tea Cleanser and Toner Recipes
Green Tea Thyme
Cleanser and Toner



4 to 5 good quality organic green tea bags or several heaping teaspoons of green tea leaves


1/3 to 1/2 cup of fresh thyme, roughly chopped


2 cups of mineral, vitamin, or coconut water


organic castile soap (for cleanser)
Combine first 3 ingredients in a small pot. Bring pot to a boil then turn down the heat and let simmer gently for 10 minutes.
Remove from the heat and let the tea and thyme steep until cool. This will make a rich, highly concentrated green tea and thyme solution.
Squeeze out each tea bag thoroughly over the pot, press the thyme with the back of a spoon to release every bit of the herb, and then strain liquid into two airtight containers.

Add a small squeeze of pure castile soap to one container to make a foaming cleanser.
Use a cotton ball to use the toner after washing with the cleanser. The tea thyme cleanser and toner can be kept for at least a week in the refrigerator.

Jinni says that thyme, a very common garden herb, is easy to grow in a pot right on your window sill all year long.
have fun trying some of our other favorite natural skin care recipes or get. . .
---
Do Share!
---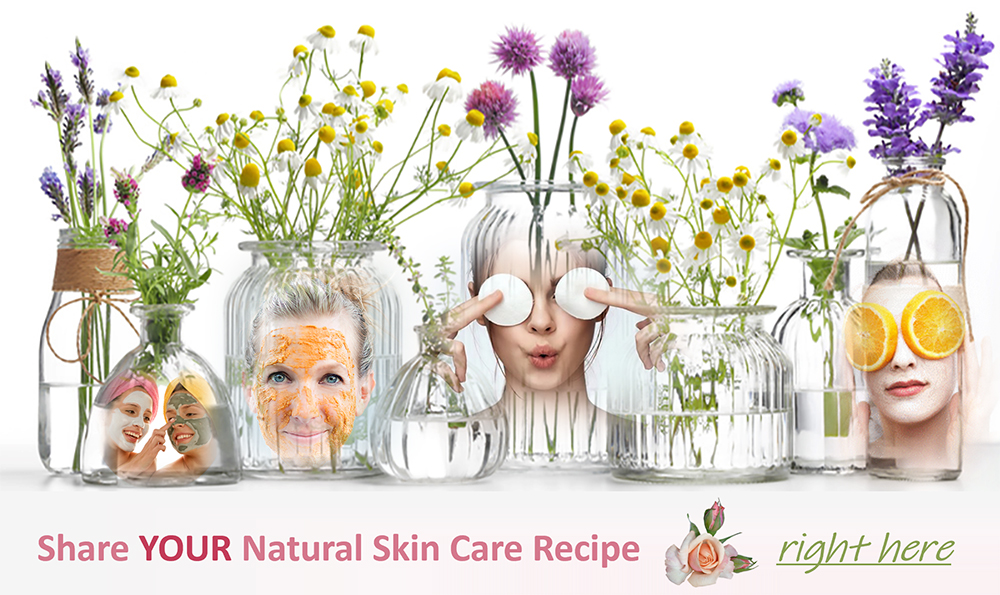 Take a peek at other visitor natural skin care recipes and tips.
---
or, of course, (for those lazy days) you can always supplement your homemade recipes with a few quality natural skin care products.
---

quick search for all natural organic skin care treatments


Search This Site: