Collagen Skin Care
~ A Must for Results ~

Collagen skin care is an essential component of a successful rejuvenating prescription for achieving long lasting results in restoring youthful looking skin. 
It's the foundation of an anti-aging routine for restoring that young pretty face again.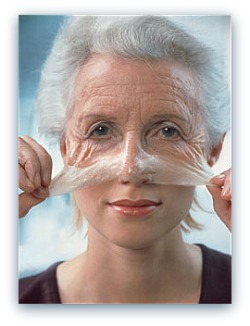 As we age, who doesn't want a prescription that actually works to combat all those aging skin symptoms?

Cells age and slow down just like the rest of you as you grow older due to a variety of factors; the primary one being sun damage.

They simply can't produce collagen as quickly as they used to. 

As a result, your skin begins to lose the all-important elastin and collagen which works to keep skin plump, firm, taut, and wrinkle free.

Aging skin needs a lot of help stimulating collagen production so the cells can do their work to repair damage.
That's where you come in!
Read the ingredient label on the anti-wrinkle skincare treatments before you choose one.
While there are many facial rejuvenation formulations that include a variety of anti-aging ingredients only some have been clinically proven to effectively increase collagen production.
---
collagen gives the skin the plump, firm and youthful look. 
---
Collagen makes up 70% to 80% of the dermis contributing to the skin's ability to retain moisture.  Experts estimate that starting in the early 30's, the skin loses up to 1% of its collagen every year.

With the decline of the skin's support structure of collagen, the development of fine lines, and wrinkles gradually appear because the connective tissue between skin becomes thinner, the layer of fat underneath diminishes, and the production of replacing dead skin cells decreases.
Your first defense against the loss of collagen in your skin is protecting your skin from sun and environmental damage:  best sunscreen for an anti-aging skin care routine

Ensure that the active rejuvenating ingredients in your collagen skin care products support your skin's ability to stimulate collagen production such as Vitamin A, antioxidants like Vitamins C, E, hyaluronic acid, peptides, stem cells, hydrolyzed collagen, and natural rejuvenating powerhouses such as green tea and pomegranate which work by blocking the damage caused by free radicals, which attack and destroy the skin's collagen and elastin. 
---
These anti-aging treatments are among the best options that work at the cellular level to stimulate collagen
---
Each of these options are a proven to stimulate collagen so when you begin your anti-aging skin care regimen, you can be sure to get results. . . 

Long term results!
---

Quick Search for collagen skin care aNti-Aging products
Search This Site: