Benefits of Antioxidants

a proactive skin care routine is the best wrinkle remover

Experts agree that the benefits of antioxidants have a significant impact on restoring youth to skin by improving skin cell health.

Solving the aging skin puzzle and getting visible results all begins with a proactive skin care routine has to include:
antioxidants
moisturizing treatment that is formulated with an active anti-aging  wrinkle remover ingredient

sunscreen
The Benefits of Antioxidants work to Restore skin cell health. . .

---
The trick is to. . .

---
Create a smorgasbord of different antioxidants and moisturizers specifically formulated as wrinkle removers in a skin care cocktail to promote skin health. 

 Overtime, environmental factors create cell damaging free radical activity resulting in the formation of wrinkles, age spots, loss of skin elasticity and on and on and on. . . 

Antioxidants are proven to stop free radical activity and stimulate cell health. They also help to restore the health and functioning of damaged cells which results in firmer, smoother and healthier skin.
 
So which antioxidant skin care treatments work the best?
Most of them!

. . . And in as many different combinations of as possible!

Sadly, there just isn't just one miraculous "silver bullet" that will restore your skin to its former youthful appearance.  Just as your body requires a wide assortment of different antioxidants to stay healthy, so does your skin.   The benefits of antioxidants on your overall health can not be understated.

Each antioxidant has its own unique attributes that work in concert with each other.


Experts concur that the more varied the use of topical antioxidants and anti-aging products, the better it is for your skin.

It's like making your own customized facial rejuvenating skin care cocktail with a mixture of several different antioxidants and proven anti-aging ingredients that will effectively treat all those symptoms of aging.


The following ingredients are the more popular antioxidants that are found in skin rejuvenation products:
Beta Carotene
Niacinamide
Resveratrol

Vitamin E
Start with one enriched antioxidant skin care treatment in the morning and another at night. Then use the layering technique to add other rejuvenating treatments that include clinically proven anti-aging ingredients that will specifically target your other aging skin concerns:

Anti-Wrinkle Creams rich in antioxidants work best when used along with other proven facial rejuvenation strategies and techniques proven to rejuvenate aging skin such as:

---

The three simple secrets for younger skin:
Step #1.  Sunscreen to protect the skin
Step #2.  Antioxidants to restore damage
Step #3.  Anti-aging treatments that nourish and promote skin health



Restore your skin by incorporating the benefits of antioxidants, a wrinkle remover and sunscreen in your basic facial rejuvenation regimen:
Your proactive skin care routine will. . .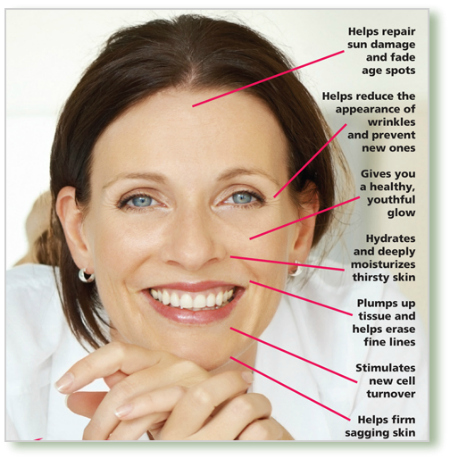 ---
Quick search for all antioxidant treatments:
---
Search This Site: