Skin Needling

an ancient art for wrinkle treatment

Skin needling is an ancient Chinese skin rejuvenation treatment that combines this rather barbaric yet cool gadget as a wrinkle treatment to preserve flawless, beautiful, ageless skin.
Absolutely barbaric looking, isn't it?

Micro-needling treatments have been performed as a medical procedure in high end spas and cosmetic surgical offices as an alternative to more invasive facial rejuvenation treatments for years.

Also referred to as collagen induction therapy, needling with a device known as a "derma roller" works to repair a variety of aging skin symptoms.

With the re-introduction of facial needling devices, now anyone can perform simple micro-needling treatments right in their own home.

---
So how do Derma Rollers actually work to rejuvenate aging skin?

---
As we all know, aging skin gradually loses collagen and elastin which leads to wrinkles and a host of other aging skin conditions.

The science behind skin needling treatments is to stimulate collagen and elastin production with gentle pin point punctures into the dermis. For the most part, this cool gadget provides tiny pin pricks which work to push pores open temporarily.


---
Now, I bet you are wondering why in heaven's name anyone would want to do that, right?

---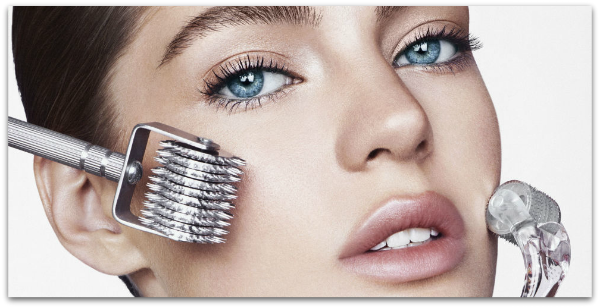 Well, your body reacts to this perceived damage by triggering a healing response.

The release of the regenerative, skin repair and growth factors trigger by the healing response actually works to stimulate the production of collagen and elastin. 

On the cosmetic level, the skin will respond to the repeated triggering the healing process. As a wrinkle treatment, improvements and results are cumulative over time.

Micro-needling, aka what medical cosmeticians refer to as collagen induction therapy, is regarded as a non-invasive cosmetic procedure approved by the FDA just like microdermabrasion, chemical peels and laser photorejuvenation.


This cool gadget has been featured on The Doctors Show, The Rachel Raye Show, along with a host of other news sources. 

It's fascinating to watch Rachael Ray's anti-aging skin care experiments with derma needling and her conclusion regarding the results achieved by volunteers from her audience.

Watch Rachael Ray's derma skin roller review:


The Derma Roller is used to treat  the following skin conditions:

Wrinkles
Age Spots
Hyperpigmentation
Sagging skin

Stretch marks
Acne scarring
Cellulite
Restoration of hair loss
Scar removal

Even celebrities like Brad Pitt and Angelina Jolie are reported to use skin needling treatments to reduce acne scars as well as to maintain their young, healthy looking skin.  Angelina Jolie just recently demonstrated her facial needling technique with a Derma Roller for Marie Claire's Magazine.

Aside from the fact that this spa skin care somewhat resembles an miniature torture devise out of one of Edgar Allen Poe's short stories, it is a highly respected facial rejuvenation strategy and wrinkle treatment with clinically proven results to substantiate the results for a wide range of skin conditions.



Plastic Surgeons, cosmetologists, and aestheticians around the world use cool gadget as an effective non-invasive facial rejuvenation cosmetic procedure to reduce acne scarring, diminish age spots, firm, tone, reduce wrinkles, treat scarring and stretch marks.


Now for the million dollar question you've been dying to ask. . .

---


"Does it hurt?"



---
And the much anticipated answer. . .


NO!



---
Quick search for all Skin Needling Devices:

---
Search This Site: