What Is the Best Sunscreen
What is the best Sunscreen?
antioxidants and sunscreen protects aging skin. . .
the dynamic duo
The "Dynamic Duo", antioxidants and sunscreen, work in concert to protect your skin from developing wrinkles and all the other symptoms of aging skin.  Absolutely very anti-aging routine needs the help of this powerful dynamic duo.

There are a number of ways to incorporate this dynamic duo into your skin care routine.

So, what is the best sunscreen for aging skin?
Basic skin care treatments for aging skin routine includes a moisturizer with a good quality antioxidant ingredient that is formulated with both a UVA and UVB sunscreen component.
That way, every morning when you apply your moisturizer, you also add protection against the sun.

---
Viola!  You're done.
---
Though to really address a range of aging skin concerns, it is beneficial to incorporate a few different anti-aging treatments by using the layering technique to provide the skin with as much nourishment as possible to promote healing as well as to protect against future damage.
Remember that it is critical to reapply regularly throughout the day, especially if you will be spending time out in direct sun. 

Pro Tip:
Daily replenishment of topical antioxidants benefits the skin by providing an arsenal for cells to deflect the assault and minimize the damage created by free radicals is essential. 

Make your own natural facial mist and spray on a little skin nutrition throughout the day!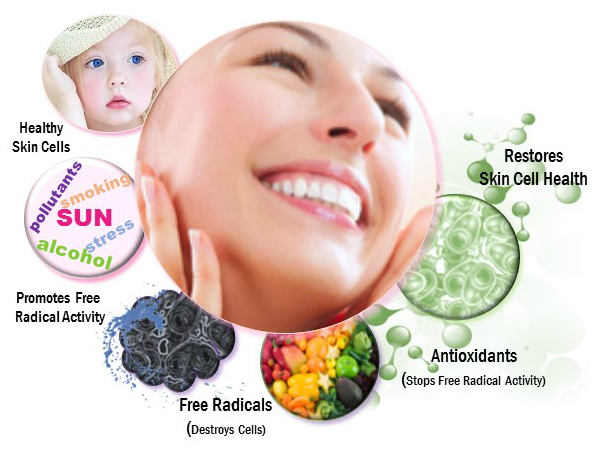 ---
Topical antioxidants and sunscreen improve skin health.
---
What is the best sunscreen regimen to prtoect your skin?


Antioxidants and sunscreen work in concert, reinforcing the others ability to protect the skin from the potentially damaging effects of the sun.

What to look for in a sunscreen. . .
Sunscreen, as the name implies, screens out the skin damaging rays of the sun while sunblock actually blocks the sun damaging rays from reaching the skin.

A good sun product should screen or block against
both UVA and UVB rays.
Protecting the skin from the sun significantly reduces free radical activity which thrive in over exposure to sunlight. Your skin needs that protection!
Free radicals work to break down the collagen and elastin in the skin which in turn causes the skin to wrinkle, sag, and produce more melanin which in turn increases the occurrence of age spots.
Give your skin the most armor possible by using both antioxidants and sunscreen. That way you will achieve the equivalent protection of a well protected bunker rather than just a camouflage net.
What some neglect to do is remember to reapply a sunscreen product every few hours throughout the day. Once a day just isn't enough, especially if you are out in the sun.


---
Let's face it, aging skin needs all the help it can get!
---

A variety of anti-aging skin care products incorporate antioxidants including moisturizers, toners, masks, serums, peels, and scrubs which all help to protect the skin against free radical damage. 

What is the best sunscreen practice to protect your skin and prevent sun damage?  Combining antioxidants benefits with sunscreen begins a basic plan for skin care for aging skin.

The following ingredients are the more popular antioxidants you will find in skin rejuvenation products that work to protect and repair:
Sunscreen products improved quite a bit with the recent approval from the FDA La Roche-Posay's Anthelios SX, a longer lasting sunscreen with a new ingredient, ecamsule, which now goes farther than ever before to protect against sun damage and skin cancer. 
(Reference: FDA sunscreen protection)

You'll find the whole story by reviewing the article on sunscreen and skin cancer.

The antioxidants benefit any aging skin routine by working in concert with sunscreen to amplify the effects of your skin cells' ability to protect and repair themselves.


---
Making the Power of the Dynamic Duo more invincible than ever!
---

Product Recommendations for Sunscreen:


Product Recommendations for Antioxidants:

---
Search for other anti-aging treatments with a specific skin rejuvenation ingredient. . .

---

Quick Search:


Search This Site: