what is a Liposome 
A very special delivery system for your anti-aging skin care treatments.
Liposome are used in skin care treatments to deliver active ingredients through the skin layers to the living skin cells.
This form of delivery system allows the body to absorb active ingredients as much as 90% more effectively.

---
Liposomes are used to literally wrap around nutrients to deliver through skin layers.
---
What is a liposome role in skin care products?
Liposomes are an important component of many skin rejuvenation treatments because of the ability of liposomes to encapsulate active anti-aging ingredients and deliver them through the layers of skin right down to the cellular level where they can do the most good.
Liposomes are typically referred to and utilized as an agent in many anti-aging skin care products to convey critical nutrients directly to the skin cells to more effectively promote rejuvenation.
Liposome skin care products helps to improve the symptoms of aging skin by providing the nourishment required that promotes cell regeneration.
When people ask "What is a liposome"?
Think of it like this. . .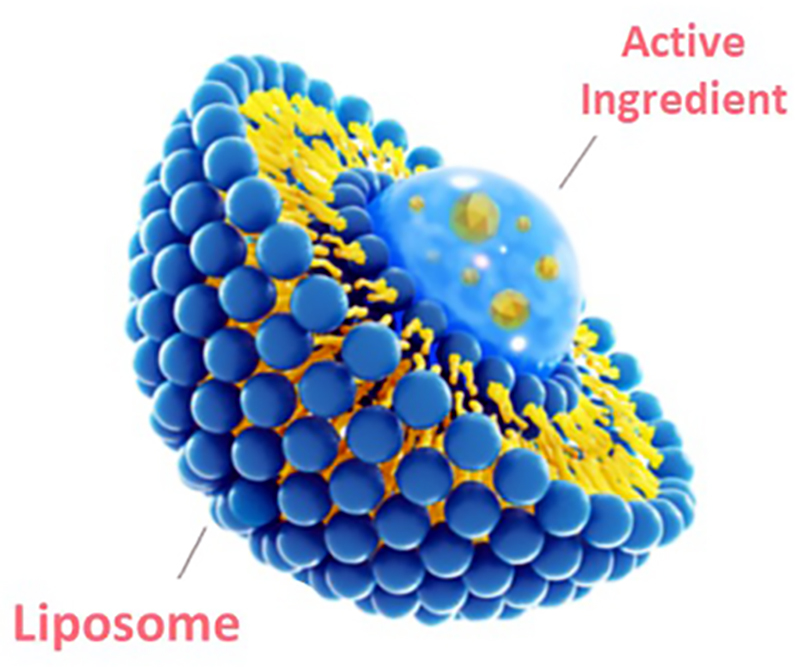 A Liposome is a teeny, tiny hollow bubble, referred to in the scientific world as a vesicle.

It is made out of the same material as a cell membrane.

The liposome bubble is filled with active ingredients such as drugs to treat a variety of conditions, diseases and even cancer.  

---
The Liposome serves as the special delivery vehicle for administering nutrients and pharmaceutical drugs to the cellular level.
---

Liposomes is not only an effective tool to help skin absorb active cosmeceutical ingredients, but also work to improve:

The stability of active ingredients
Increase skin hydration by surface adhesiveness
Enhance dermal bioavailability and skin targeting
Protect skin cells for external stressor, such as sun or sweat. 
The science of determining what is a liposome role in skin care has certainly resulted in a revolutionary uplift to the Cosmeceutical industry.
The special delivery properties of liposomes are used in a wide array of cosmetic products ranging from anti-aging skin care treatments, shampoos, creams, lotions; to name just a few applications where delivery systems work to increase the effectiveness of products.
There are actually two distinct types of skin care delivery systems:

The Intercellular Skin Care Delivery System uses liposomes or another matrix to penetrate the outer layers of skin, in essence creating a highway through the skin layers to deliver the active agents to living skin cells.  


The Transcellular Skin Care Delivery System is when either the outermost skin layers are pierced in order to allow active treatment agents to access the living cellular skin tissue using a micro-skin needling process.  Another method involves ionic transfer when using DIY spa devices such as the Galvanic Facial. 


---
Product Resources
---

three top skin care lines specializing in utilizing Liposome skin care delivery systems in treatments:


Quick Tip:

Another way to deliver
rejuvenating treatments to the cellular level is to whip up a natural skin care recipe and apply it after a DIY micro skin needling treatment.

Referred to as a transcellular
skin care delivery system

It's quick, easy and inexpensive.
Natural Skin Care
other Visitor Favorite Topics
---
All anti-aging treatment products. . .

---

Quick Search:


Search This Site: