Glycolic Acid Treatments

Without a doubt, glycolic acid treatments are quite simply the most effective skin rejuvenators of the Alpha Hydroxy Acids.

The Alpha Hydroxy Acids, AHA's, include glycolic acid, lactic acid, tartaric acid, malic acid, and citric acids.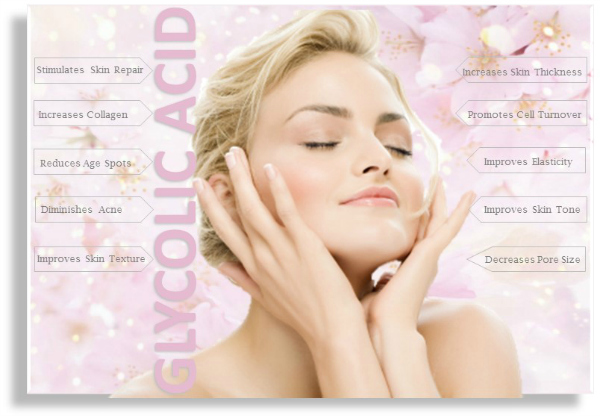 Why include Glycolic Acid Skin Care Products in your anti-aging skin care routine?

Exfoliation!
Exfoliants remove the dead skin cells that collect on the surface of the skin, revealing the soft, smooth skin underneath and stimulate cell renewal. 
A fruit acid derived from sugar cane and other fruits, glycolic acid clinical studies prove AHA's are an especially effective exfoliant.

Glycolic acid has the unique distinction among the AHA's of having the smallest molecule of the AHA family so it readily absorbs into the skin.
AHA's work to dissolve the dead skin cells that collect on the outermost layer of skin to trigger repair. Plus, unlike scrubs, the skin is not damaged by abrasives, so if your skin is sensitive or reactive, AHA acids are actually a smart exfoliant choice to include in your rejuvenation regime.


In addition to exfoliation, AHA's can actually accomplish quite a bit towards the rejuvenation of aging skin including:

Stimulating skin repair
Increasing collagen production
Increasing cell turnover and renewal
Increasing skin thickness 
Improving elasticity 
Effective acne treatment 
Improving skin texture
Improving skin tone
Decreasing enlarged pores
Improves the absorption of other skin care treatments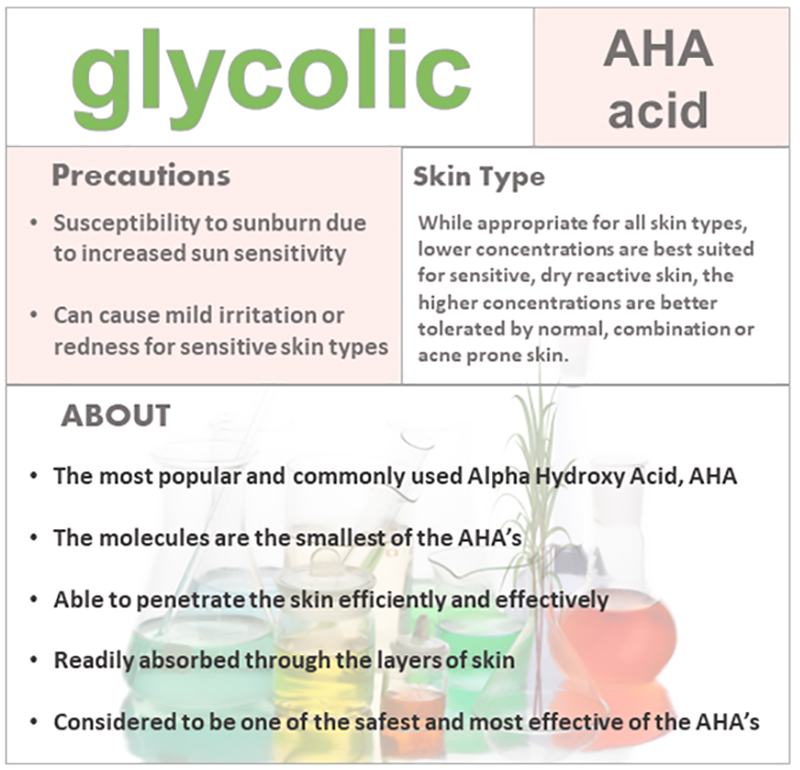 Once applied, glycolic acid reacts with the upper layer of the epidermis, weakening the binding properties that hold the dead skin cells together on the top layer of the skin.

This allows the dead cells to be exfoliated, exposing live skin cells which begins the process of stimulating cell renewal and restoring skin health.
Be forewarned. . .
The skin needs to gradually become accustomed to any of these acids otherwise the skin can quickly become irritated.


Glycolic acid treatments also increase the skin's sensitivity to the sun, so be sure to protect your skin by using a SPF moisturizing treatment.


Make sure to carefully follow the directions on any glycolic acid skin care product (or any alpha hydroxy lotion) for the best results.
Glycolic acid products formulated with concentrations between 8% and 15% are considered to be extremely effective and safe for home use for not only facial rejuvenation but many other skin care concerns.  
Medical Spa chemical peels and other dermatology treatments use between 20% to 30% (and occasionally higher) concentrations of glycolic acid. 
---
Glycolic acid skin care treatments are considered to be the cornerstone of any effective facial rejuvenation routine.
---
The FDA along with the Cosmetic Ingredient Review (CIR) Expert Panel concluded that clinical studies of products containing the AHAs glycolic and lactic acid are safe for use by consumers if:
The AHA concentration is 10 percent or less. The final product has a pH of 3.5 or greater.
The final product is formulated in such a way that it protects the skin from increased sun sensitivity or its package directions tell consumers to use daily protection from the sun.

---
Product Resources:
three top skin care lines specializing in glycolic acid treatments. . .

As an integral part of an effective anti-aging skin care routine, glycolic acid can be applied after a face wash or facial steam.

Then layer on a moisturizer or serum rich in antioxidant and emollient active ingredients, followed by a sunscreen product.
Gradually build upon your rejuvenation regime by adding products with a range of active ingredients before bed, under eye treatments and DIY spa facials.
other Visitor Favorite Topics
---
Search for glycolic acid treatments. . .

---

Quick Search:


Search This Site: