DIY Facial Chemical Peel
Peel It Off!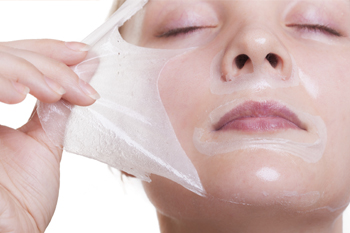 A facial chemical peel works to promote skin rejuvenation by removing the upper layers of skin, stimulating cell renewal

A chemical face peel is a nonsurgical procedure that involves applying an acid solution to the face, neck and the back of hands to smooth, improve skin texture and promote skin cell regeneration for younger, fresher, healthier skin.
As the outer layer of skin gradually peels, the new layer of skin revealed underneath shows less evidence of wrinkles and hyperpigmentation.
Solutions used for facial peels differ dramatically according to strength and the active ingredients used in the formulations.  The stronger peels provide a deeper treatment and potentially will require some recovery time.
An occasional light chemical face peel is superficial enough to be recommended for DIY home spa facial treatments while promoting significant exfoliation and cell regeneration.


Facial peels include a variety of different acid based solutions and a range in the percentage of concentration of active ingredients available in DIY home solutions.


The three most common types of Alpha Hydroxy Acid- AHA peels use. . .

Fruit acid
Glycolic acid (AHA)
Lactic acid
Beta Hydroxy Acid - BHA (salicylic acid)
Other chemical peel acids like the Jessner, Obagi, or Resorcinol peel are typically formulated at much higher concentrations, use a combination of natural acids, and/or the solution is left on the skin for a longer period of time in order to penetrate through many more layers of skin.  
---
CRITICALLY IMPORTANT!

A medium strength or deep chemical face peel should only be performed by a skilled practitioner.
---
Unlike DIY home a chemical facial peel, professional peels are much stronger and work deeper through skin layers, requiring a handful of days recovery time.

Remember, these acids literally work to burn through layers of skin!
The benefits and rejuvenating results of both the lighter DIY home or professional facial chemical peel are well documented and quite effective.
---
Facial peels are used to. . .
---
To rejuvenate the skin by:
Reducing fine lines
Minimizing wrinkle depth
Improving hyperpigmentation
Control acne
Smooth dry, rough skin
Improve skin tone and texture
Reduce evidence of sun damage
Promote exfoliation to stimulate cell renewal


A Facial Chemical Peel might:
Sting
Itch 
Flaking
Temporarily increase skin dryness
Cause redness
Produce mild irritation

For aging skin, multiple treatments may be required over the course of several months for significant results because skin cell turnover becomes much slower the older you become. 
Skin cell regeneration takes:
Babies: around two weeks
Teens: between three to four weeks
Beyond the teen years: once a month (or roughly around 30-40 days)
After the age of 50: every 45-90 days
---

IMPORTANT NOTE:

It is extremely important when using a DIY home chemical facial peel, follow all directions very carefully. 
Be sure to select a light concentration best suited for your skin type.


---
When using a DIY facial chemical peel, stronger or longer IS NOT better.
---
Start with a very light peel every three to four weeks then gradually work your way up to a stronger peel solution like a mildJessner peel.

Or, of course, you can always make your own! 
It's really quick and easy to do.
Natural Skin Care Recipes

Just mix your own gentle fruit acid peel using the juice of a lemon, lime, orange, or grapefruit with a bit of gelatin or lightly whipped egg white.
---

You also might find it helpful to review . . 

The rejuvenating attributes of all active anti-aging skin care ingredients:                         
Quick search for DIY Home chemical facial peels:
---
OR. . .
Go ahead and treat
yourself. . .
Splurge on a professional LED Light Therapy laser treatment!
you deserve it!
SpaFinder
---
other Visitor Favorite Topics
Search This Site: