Collagen Peptides

The properties of this active anti-aging ingredient increases skin hydration, firms and plumps skin.

Collagen production diminishes with age which inevitably contributes to the development of fine lines, wrinkles, sagging and a reduction in the skin's elasticity.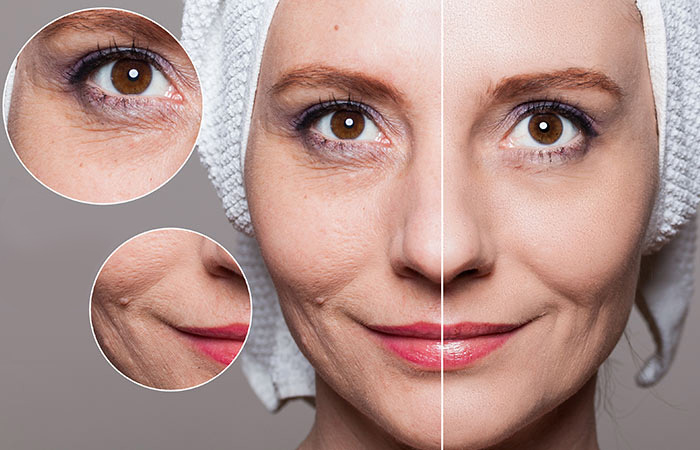 It is important to note that formulations of collagen peptide skin care products need to be very specific in order to allow for this ingredient to be adequately absorbed through the layers of skin.
---
Collagen face creams fall into two categories. 
---
There are products which contain collagen, and others which help boost collagen production.

One of the best collagen "boosters" is retinol.

It works in two ways:
Preventing the breakdown of collagen after UV exposure
 
Increasing the amount of collagen by stimulating skin cell renewal and growth.
Collagen is the most abundant protein in the human body.  It's the substance that literally holds the body scaffold together to provide strength and structure.

Collagen production naturally slows down as we age.  It has been estimated that the skin loses around 1% percent of its collagen every year starting in the mid-thirties.

Without the support of collagen, the skin begins to lose its structure and elasticity.  The breakdown and collagen loss results in fine lines around the eyes and forehead, and sagging looking skin. 
---

Important Note:
Hydrolyzed collagen is a form of collagen that has been broken down into smaller chains of amino acids called collagen peptides.  Formulations with these forms of collagen are considered to be more effective in topical collagen skin rejuvenation treatments.

Peptides are thought to have the ability to penetrate deeply into the skin and stimulate collagen production.
---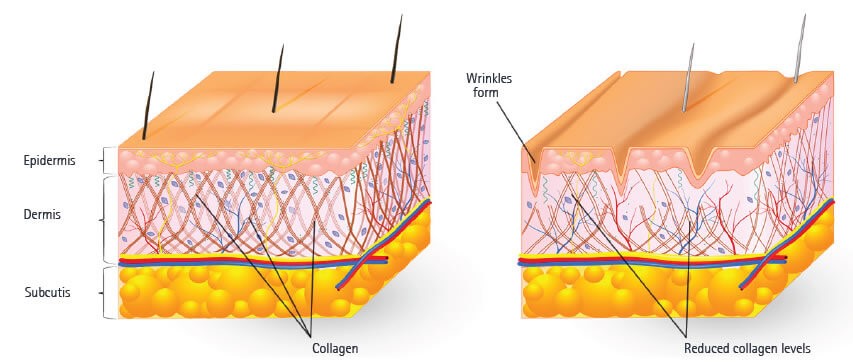 ---
There is no one single, magic bullet ingredient when it comes to anti-aging. The best line of defense to maintain younger looking skin through the years is a combination of making good lifestyle choices, choosing the right products with clinically proven active ingredients, and using them consistently.

You can also build collagen from the inside out with a healthful diet that provides the helps the body with the nutrients to support collagen formation naturally like:
Proline: In egg whites, meat, cheese, soy, and cabbage.
Anthocyanidins: In blackberries, blueberries, cherries, and raspberries.
Vitamin C: In oranges, strawberries, peppers, and broccoli.
Copper: In shellfish, nuts, red meat, and some drinking water.
Vitamin A: Occurring in animal-derived foods and in plant foods like beta-carotene.
Reference: DermCollective | Collagen Peptides Benefits 


Collagen peptides is often referred to as a YOUTH ingredient.  

it is an essential natural protein to keep the skin supple, plump, taut, and young looking.

---
Product Resources:
three top skin care lines specializing in formulations containing collagen peptides. . .

other Visitor Favorite Topics
---
All skin rejuvenation products with collagen peptides. . .

---

Quick Search:


Search This Site: