Organic Natural Skin Care
Organic Natural Skin Care 
on a budget. . .
absolutely the best source of all-natural skin care treatments
Article contributed by Author: M. Rochell, Organic skin care specialist
Are you sick of trying to find just the right organic natural skin care product for your skin?
Why not turn to the best resource of all?
Mother Nature!
Nature provides the most effective and powerful skin care ingredients, and most can be found right in your own pantry or refrigerator! 

Whether you are on a tight budget or not it's a no-brainer.
How many times have you gone to the store to find just the right organic natural skin care products only to find yourself standing in the aisle staring at all the choices before you?
Wondering. . .

Which ones work the best?

How can honey be so incredibly expensive?

What in heavens name can charcoal do for the skin that dead sea salt from the Mediterranean can't?

What's the difference in effectiveness?
It honestly can be downright confusing and discouraging to try and figure out which natural organic skin care treatments might work for your skin type.  In the meantime, you can spend a lot of money trying a new yet natural anti-aging skincare treatment and still not find the one your skin needs and "likes".
---
organic natural skin care doesn't have to cost a fortune you know
---
Did you know that you could take care of your skin naturally using food items that may already be in your pantry or refrigerator?
It's true!

You don't have to spend a lot of money to have naturally beautiful skin.
These are just a few examples of everyday grocery products that can also serve as a potent (and very inexpensive) natural anti-aging skincare treatment (No matter what age you are. . . the earlier you start the better your skin will look as you grow older!) to keep your skin looking vibrant and healthy:
Coconut oil– excellent for adding moisture to the skin


Coconut water– drink it for moisturizing the skin and for nourishing the skin from the inside out


Honey– gives the skin a supple appearance


Oatmeal– it can be used as a natural facial cleanser or, when mixed with water, as a mask to tighten pores


Bananas– mashed up and applied to the skin, they act as a natural exfoliant


Water– yes, we include this in the list because it's often overlooked and it's one of the best, easiest, free ways to nourish your skin


Egg whites– use as a mask to tighten up the skin


Olive oil– nourishes and moisturizes


Tea tree oil– can help shrink blemishes


Almonds– as a facial paste when combined with milk


Pumpkin– organic canned and mashed pumpkin is an excellent moisturizer
---
Many experts agree on the valuable rejuvenating properties of these natural ingredients:



But what if you have sensitive skin?
Can you still use organic natural skin care treatments?
Of course!  Herbs like mint, chamomile, lemon balm, lavender and nettle are usually recommended for sensitive skin types.  
Pro Tip for Reactive Skin Types:
Test a small area of skin either behind your ear or on your arm to see if your skin has an allergic reaction. It's best to test any food or combination of foods on a small area of your skin before you try it on your face just to make sure you're not going to react negatively to it.

It's a lot easier to deal with a breakout or red irritated skin when it's on your arm or behind your ear than on your face, right?
Natural oils are sometimes offered up as options for a natural anti-aging skin care treatment too– like natural nut oils -just be sure to check your skin's reaction to anything new as they can be problematic for sensitive skin.

And don't forget to do daily facial exercises to keep skin naturally firm and healthy! It's a free way to get blood flowing to the skin and to keep your facial muscles strong.
---
you'll love how your natural beauty shines through!
---
Other Natural Beauty Tips:
If you wear makeup, wear less – you'll appear younger
Sleep on your back – helps prevent wrinkles and breakouts Switch out your pillowcase every other night
Eat a healthy and balanced diet
Exercise regularly
Sit up – good posture makes you beautiful!
Brush your hair – shiny, clean, healthy hair is attractive
Whiten your teeth
Smile!
It really is possible to be beautiful naturally without spending a lot of money. You just have to be willing to be a little creative and willing to take care of yourself.
About the Author:
M. Rochell is the creator of MySensitiveSkinCare.com which offers safe, natural skin care, organic natural skin care solutions for rosacea, and other chronic skin problems.
and what better time to make use of your natural pantry ingredients?
---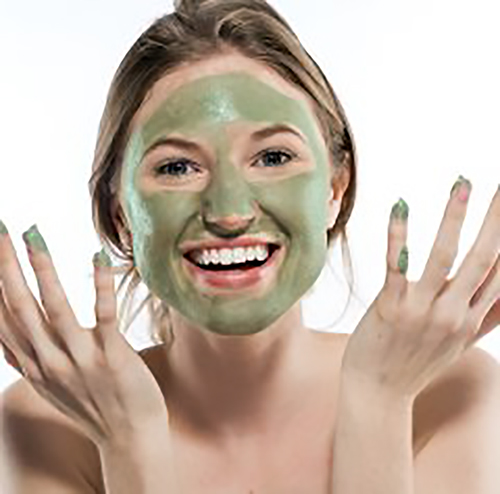 It's quite easy to Make your own effective home skin care remedies!
There are several natural anti-aging skin care recipes that you can make quickly and easily with ingredients you already have at home that work wonderfully to provide essential nutrients as well as to rejuvenate your overall skin's health:
---

Recommended natural skin care Treatments:
---
Quick Search for all natural home skin care remedies:

---
Search This Site: