Beauty Product Reviews: NuSkin Tru Face Line Corrector
by Karla
The Line Corrector is formulated with a great combination of active ingredients to address a wide range of anti-aging issues.


I also find that it is especially hydrating for the skin providing a nice "plumping" effect which reduces fine lines and wrinkle depth.
When used over a period of several weeks, the results are happily quite significant!
To get the best rejuvenation results, after I apply the Tru Face Line Corrector to my face and neck, I use the Galvanic Spa to infuse the treatment through the skin layers to help promote repair and renewal at the cellular level.
A recent Vanity Fair article featured the Nuskin Tru Face® Line Correcto as a top beauty product. The article "Hot Looks: Radiant Hair and Skin" recommended using Tru Face treatments "for a quick fix for mature, dehydrated skin" as well as for anyone suffering from dull, winter-weary skin.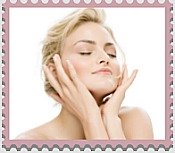 Read More About Favorite Beauty, DIY Home Spa and Facial Rejuvenation Treatments:
See more great
Beauty Product Reviews
and recommendations for the anti-aging skin care treatments that work!
Favorite Beauty, DIY Home Spa and Facial Rejuvenation Treatments: