How to Build Collagen to Get Rid of Under Eye Puffiness and Dark Circles
by Scadlia
(Peru)
Reviva Labs Collagen Fibre Eye Pads with Myoxinal


This is a great quick and easy way to get a jump-start on learning all the tricks to
How to Build Collagen
that will get rid of under eye puffiness and the dreaded dark circles
Description:
Reviva Labs recently introduced a wonderful addition to a comprehensive facial rejuvenation regimen- Collagen Fibre Eye Pads with Myoxinal (a natural anti-wrinkle ingredient from the Hibiscus Flower) that quickly and easily treats under eye puffiness, dark under eye circles and reduces the appearance of the fine lines and wrinkles surrounding the eye.
The eye collagen treatment pads is combined with a specially formulated Energizing Gel using Hawaiian seaweed extract to promote the rapid absorption and increase the results of the collagen eye pads.
Plus, these pads are really neat to use! You just moisten the under eye area with either the Energizing Gel or plain water and they literally dissolve into a gel-like patch that is shaped to easily fit on the under eye area.
You leave them on for 20 minutes or so and
VIOLA
!
Rather remarkable Botox-like firming effects!
Pros:
The science behind these new collagen fiber eye pads is very impressive. They are developed based
upon the use of freeze-dried sheets of "native" collagen for the treatment of wounds and burns to accelerate healing in European countries. Not surprising, Reviva Labs has been known during the past 20 years for their full face collagen fiber sheets previously available only to skin clinics, dermatologists and spas.
The under eye collagen pads are easy to use and produce very gratifying visible results even after the first treatment.
Cons:
While results are delightfully immediate, they are only temporary at first. However, with additional treatments, the results do become cumulative
Recommendation:
This is a
"Must Have"
for anyone who struggles with under eye puffiness and those big racoon looking dark circles.
Price:
$38 for 4 under eye pads and 2 ounce bottle of Energizing Gel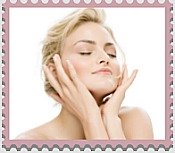 Read More About Favorite Beauty, DIY Home Spa and Facial Rejuvenation Treatments:
See more great
Beauty Product Reviews
and recommendations for the anti-aging skin care treatments that work!
Favorite Beauty, DIY Home Spa and Facial Rejuvenation Treatments: