Dr Perricone Skin Care
by Victoria
Product:


Dr Perricone Skin Care - Topical DMAE Products to Firm Sagging Skin
Description:
Dimethylaminoethanol, or DMAE for short, is used topically to tighten and firm sagging skin. DMAE also works to improve the appearance of fine lines, wrinkles, and contributes to an overall smoother look.
With continuous use, DMAE products also reduce neck folds, droopy cheeks, tighten eyebrows (for a lifting effect) and firm sagging under eye bags.
The entire Perricone anti-aging skin care product line is formulated using the highest quality ingredients and the latest scientific research that supports the rejuvenating effect of each component in the treatments.
The Dr. Perricone skin care topical DMAE products are specifically formulated using proven anti-aging nutrients that create a "cocktail" designed to enhance antioxidant performance to repair and regenerate skin cellular damage.
Pros:
High quality products suitable for all skin types. The DMAE treatments in particular show significant results in as little as a week and typically within 30 to 45 days.
Cons:
Pricey.
Recommendation:
Including the active anti-aging DMAE ingredient is beneficial for anyone concerned about skin aging.
Eventually, everyone's skin cellular
structure starts to erode which increases skin sag.
Using a rejuvenation product with the active DMAE ingredient sooner rather than later will achieve the best long term effects.
While some consider Dr. Perricone's topical DMAE products to be on the expensive side, just bear in mind the age old adage of, "You get what you pay for".
Each product is formulated with the active rejuvenation ingredients that maximize results. The products also last for months when using the recommended dosage of just a small pea sized application rather than slathering on excessive amounts of the product.
Price:
Dr. Perricone skin care treatments start around $35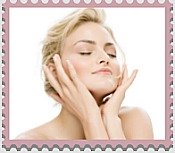 Read More About Favorite Beauty, DIY Home Spa and Facial Rejuvenation Treatments:
See more great
Beauty Product Reviews
and recommendations for the anti-aging skin care treatments that work!
Favorite Beauty, DIY Home Spa and Facial Rejuvenation Treatments: