Top Skin Care Products
the six top product lines for men's anti-aging skin care concerns

Men want to use top skin care products too but without all the fuss!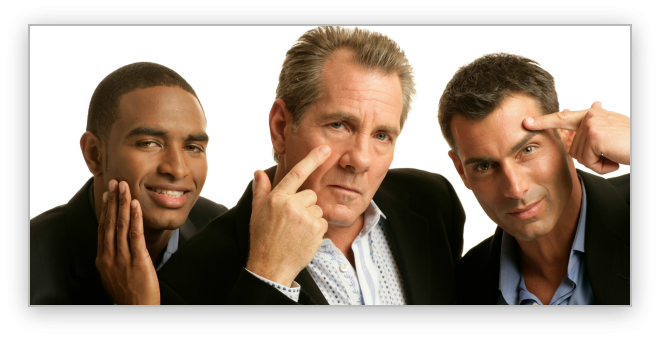 Article contributed by Author Alyssa, researcher in anti-aging skin care and webmaster of the Acne Centre Blog.

Skin care, although usually only attributed to women, is becoming more prevalent amongst men. This is simply because the benefits can be so great for men. Being manly has nothing to do with skin care, just as isn't unmanly to brush your teeth.  Men want to look good too!
---
So, what's the best skin care RX for men? 
---
In a nutshell, focus on those product lines that specialize in rejuvenation treatment formulated just for men.
Skin is simply another aspect of taking care of your body, and there are some great products out there for men when it comes to skin care.

In recent years there has been an increased focus on creating skin care products that specifically address the needs of a man's aging skin symptoms.
Although men typically spend less time caring for their skin than women do, their skin ages overtime, as does the accumulation of aging skin symptoms.  Rather than waiting to look like an old Grandpa before your time, a few proactive measures can help maintain that ruggedly handsome, debonair, elegantly understated sophisticated appearance.
A basic skin care for men includes shaving, cleansing, moisturizing, and more along with using the best products that will prevent and treat signs of aging.

Start with a basic skin care routine which you probably do every morning already, then bump it up a notch by adding a skin care treatment before bed.

Over time gradually work in an exfoliating treatment once or twice a week to get rid of all the dead skin cells that collect on the surface of the skin.  


#1. Hydrating
Cleanser


#2. Rejuvenating After Shave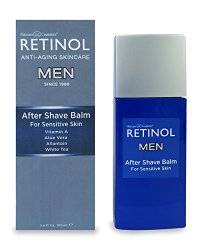 #3. Anti-Aging Moisturizer



You might consider adding in a deeply nourishing facial firming serum, then an eye cream.  It doesn't take much but, over time, the rewards are substantial.

Let's face it, your skin doesn't care why you take care of it, it just cares that you do and rewards your efforts in looking younger, healthier and well-cared for.
It's important!
We all know that when we look good, we feel good about ourselves. 
Six Top Skin Care Product Lines Specializing in formulations for men
Quick Search - Top Skin Care Products for Men:

---
Search This Site: