Derma Wand

A DIY Home Laser Spa Treatment  

The DermaWand operates on a high frequency electrical current to stimulate skin cells.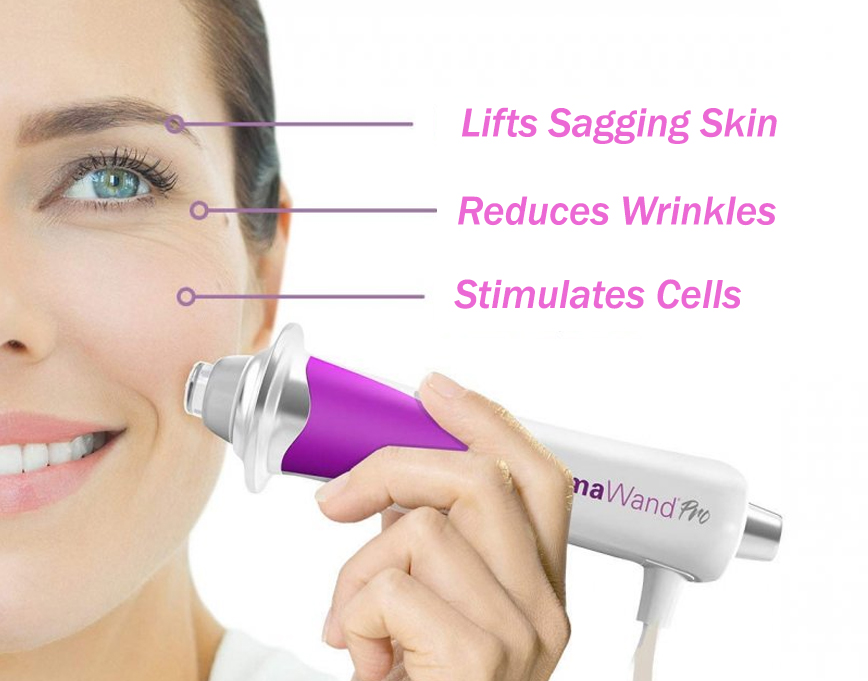 The micro-current stimulates the skin to improve oxygen flow, circulation and increase the effectiveness of nutrients to repair the skin at a cellular level.
The Derma Wand also works to plump sagging skin and thinning lips along with reducing puffy under eyes.
Electrical facial muscle stimulation treatments reduce the appearance of fine lines and wrinkles, as well as to increase circulation.

The benefits of electrical muscle stimulation (EMS) therapies are also used medically to reverse the adverse effects of certain health complications.

The U.S. Food and Drug Administration (FDA) allows prescriptions for EMS to be used to address symptoms resulting from stroke or treat facial drooping as a result of Bell's Palsy.
This version of a home laser stimulates the skin's circulation. Increasing circulation helps the skin's ability to repair itself and to absorb the benefits of age fighting ingredients in skin care products.
The improved absorption of anti-aging treatments provides aging skin cells with the nutrients necessary to stimulate collagen production and cell renewal.
---
Home laser treatments are derived from a category of soft lasers which encourage the stimulation of skin cells at a cellular level to rejuvenate aging skin.   

---
Like any other anti-aging treatments, it does take some time to see the effects the dermawand has on aging skin.
The effects of EMS is known to:

improve skin tone
firm sagging skin 
stimulate cell renewal
reduces pore size
diminish fine lines and wrinkles
reduce puffy under eye bags 
plump thinning lips
---
The same high frequency micro-current technology of the Derma Wand has been used at professional medical spas for years.
---

The science of electrical micro-current high frequency in skin lasers harnesses the beneficial technologies of:

Thermal Energy:
This device increases the thermal temperature just below the dermal layers.
Studies have found that maintaining temperatures over 115°F for 3 minutes causes the skin to release proteins,  stimulating the skin's cellular level to produce new collagen fibers, which results in more elastic, vibrant skin.

Stimulation:
The tool uses microcurrent impulses delivered at high frequency for gentle massaging. improving blood circulation stimulating the production of collagen, which increases skin elasticity for firmer, more youthful looking skin.

Oxygen
Oxygen is the most crucial chemical needed for metabolism in the body.
As the body ages, the skin loses its ability to retain oxygen. The Derma Wand produces enriched oxygen, revitalizing skin surface working to plumping the skin, kill bacteria, calm acne, and accelerate healing.
Skin cells are continuously replacing themselves.

DIY home therapeutic spa treatment lasers are not as powerful as those used in medial spas.  Therefore, you need to be consistent in order to ensure ongoing skin cell regeneration to see long-term results.  


Quick search for DIY Home Rejuvenating Therapy Lasers:
---
OR. . .

Go ahead and treat
yourself. . .
Splurge on a professional medical  therapy laser treatment!
you deserve it!
SpaFinder
---
Visitor Favorite Topics
---
Search This Site: