Hi,


It's Your Skinsational News!
Welcome to your March edition of Skinsational topics that will keep your skin looking younger, healthier, and absolutely gorgeous!

Be sure to bookmark the Skin Care Resource Center's Anti-Aging Skin Care Blog and visit us frequently. You don't want to miss out on valuable skin care news or the hints and tips that are published every day!

(. . .and be sure to share the Skinsational News! by forwarding these newsletters along to your friends. Thanks!)

March Issue At-A-Glance:

Feature Article- The Battle of the Skin Care Brands
Beauty Tip- Skin Care and Beauty Steals & Deals
Your Top Secret Facial Treat of the Month- Quick and Easy Enriching Skin Smoothie
Skin Care Product Review- Facial Rejuvenation's Skin Care All Stars
Skinsational Tip- Get Skin Care Stocking Stuffers ~ For Free!
The Battle of the Skin Care Brands
We are bombarded with skin care product advertisements constantly. Each brand claims to be the "Best", the "Only", or the most "Effective".
One brand asserts that it will eliminate wrinkles right before your eyes, another brand tightens skin far better than a surgical face lift, and the newest "revolutionary" skin care innovation du'jour claims to accomplish all three with just one application!
To be perfectly honest what we all actually want is really dramatic results. . . right away!
We want to see our wrinkles vanish overnight, we want our age spots to miraculously disappear, and we want to see our sagging skin firm right before our eyes.
Thus, the never ending. . .
"Battle of the Skin Care Brands"
It's all about global maneuvering for market share which is accomplished by preying on your desire for younger, more beautiful looking skin. In reality, it's really all about how much cash out of your wallet they can get you to part with!

So, let's get down to the nitty-gritty. Are any of the claims that cosmetic companies make for their "superior" rejuvenating skin care treatments true?
Sometimes. . .
Well, hang on to your wallet for a few minutes and use these simple tips when choosing your facial rejuvenation treatments so that you will get the best results for the least amount of out-of-pocket expense.

Here is advice from several well-known dermatologists explaining how to decipher effective skin care treatments from marketing hype:
"New" does not always mean "improved." In skin care, innovations are driven by marketing lingo and sales not necessarily solid, scientific research. "Some companies back up their claims with what amounts to voodoo science, some use gimmicks, still others employ outright lies."
Dr. Obagi explains, "Since formulations are proprietary, cheap products can easily disguise themselves as looking like quality products. So just reading the labels when comparing two products is not sufficient. The credentials of the manufacturer, and the positive results experienced by bona-fide customers make all of the difference in skin care. If you want a skincare product that is effective and innovative, there is usually a premium to be paid. The old adage holds true, you get what you pay for."
"If a manufacturer wants to produce a product that is highly active, that generally requires "loading" the formula, so you get a long list of ingredients, and obviously, that adds to the cost."
Anti-aging skin care solutions that provide immediate long-term anti-aging benefits that address a variety of aging skin concerns such as diminishing wrinkles, lightening age spots, hydrating, moisturizing, strengthening the skin and reducing wrinkles should be jam-packed with a hearty percentage of proven active ingredients.

Dr. Obagi states that the concentration of active skin care ingredients is key. "This, I think, is one of the biggest scams in the industry. Two products can have the EXACT same list of ingredients, and one is highly effective, and the other totally useless. The difference is the concentration of those ingredients. One product may use only a miniscule amount, the other uses a clinically active level but unfortunately, there's no way to understand that distinction.

That's because all ingredients are supposed to be listed in order of their concentration—but for ingredients with a concentration less than 1%–they can be listed in any order.

There's a big difference—an enormous difference—between a concentration of .01% and 1%. But you'd never know it from the label."
But we all want results!
To select effective anti-aging treatments:
#1. Know your skin type: Select products formulated with ingredients for your specific skin type. The basic skin types are sensitive, dry, normal, oily, and combination.

#2. Be familiar with anti-aging ingredients: Do you know what the active, clinically proven anti-aging ingredients are and if they are in the products you are using? For example, antioxidants will help repair and protect the skin from sun damage, glycolic acid works to exfoliate away old and dying skin cells which encourages new skin cell growth, hyaluronic acid stimulates collagen production to firm sagging skin, matrixyl not only repairs but rejuvenates a host of aging skin symptoms and so on.

#3. Read the ingredient label: It's not enough to know which anti-aging ingredients are proven facial rejuvenators; you also need to carefully review the ingredient label of skin care treatments so that you know you are choosing a product that will give you results. Choose rejuvenation treatments that contain clinically proven active anti-aging ingredients.

#4. Choose products with effective concentrations of active ingredients: Be sure that the product label specifies how much of the active anti-aging ingredient is in the formulation. (You wouldn't use a baby aspirin to treat a migraine would you?) Facial rejuvenation treatments should clearly identify the percentage of active ingredients used in the formulation.

#5. Identify rejuvenation treatments that are proven to address your specific aging skin concerns: Different active anti-aging ingredients target different symptoms such as fine lines, wrinkles, age spots, skin tone, and so on. Select products that are formulated with the ingredients that will work to address your specific aging skin symptoms.
Here are a few good starting points:
Best Anti-Aging Treatment Solutions
Anti-Aging Treatments by Active Ingredient
Since there isn't just one miraculous Fountain of Youth instant skin rejuvenating cream that will address all aging skin symptoms at once, (yet!), it is helpful to layer on a few different skin care products as part of your daily regimen so that you will be able to effectively treat a variety of concerns at once.

Despite advertising claims to the contrary, you simply are not going to see dramatic changes over night.

Rather, it will be a few months before you really begin to observe noticeable changes. When you choose quality (. . .and please know that quality doesn't necessarily mean expensive!) anti-aging skin care products provide an excellent foundation for healthy, youthful looking skin.




"Steals and Deals", Coupons, Samples and "Rewards"!
Did you know that Sally Beauty is the biggest retailer of beauty supplies in the entire world? (Me either! But I sure do now after my research of the company.)
As you may already know, Sally Beauty Supply offers a huge selection of products from skin care to beauty. But did you know that they also offer tons of Steals, Deals, Clearance, Samples and Coupons and Rewards? (I am very impressed by that!)
I've outlined them all here: Clearance Skin Care: Sally Beauty Products offers an astounding array of great "Steals and Deals", Coupons, Samples and "Rewards"!
Quick and Easy Enriching Skin Smoothie
Re-hydrate your skin with an emollient facial treatment rich in valuable nutrients that promotes skin health.
I really like using avocados because they have a treasure trove of anti-aging attributes.
They are packed full of vitamin A, D and E. along with proteins, lecithin, beta-carotene and potassium. Avocados also are high in emollient qualities imparted by sterolins which work to heal sun damaged skin, scarring and reduce age spots.
Lime and other citrus fruits are natural source of alpha hydroxy acids. When you use fresh ingredients you get the benefits of the AHA, antioxidants and other natural rejuvenating properties at the peek of their potency. AHA's are used as a chemical form of exfoliation.
Sesame seed oil is jammed-packed with natural antioxidants that easily penetrate the skin. (Please note: People who are allergic to peanuts are likely to be more susceptible to sesame allergy.)
Mint is rich in Vitamins A and C, as well as several minerals in addition to having anti-septic properties. Mint also contains small amounts of Vitamin B2. Mint is used in holistic medicine to cure pimples, prevents skin, dryness of the skin as well as to treat insect stings, eczema, scabies and contact dermatitis.
Mash 1/2 avocado
Juice of 1/2 lime
4 leaves of mint
1 teaspoon sea salt
1 teaspoon sesame oil
Whip all ingredients in a blender until they form a smooth thin paste. (You may need to slowly add a few drops of oil or lime juice until you have the right consistency). Apply facial for 20 minutes. Rinse well with warm water. Keep leftovers refrigerated for up to 3 days.

Tip: Do you know this trick? Don't throw the avocado pit away! Put the pit right in bowl with the remaining mixture and it will prevent it from discoloring!




Facial Rejuvenation's Skin Care All Stars
One of the best overall anti-aging skin care ingredient is retinol, (vitamin A). However, the ingredient label needs to specify a concentration of at least .05% in order to give you results.
To even out a mottled skin tone, tighten pores, diminish age spots and prevent acne outbreaks choose a glycolic acid with at least a concentration of 8% to 10% glycolic acid. To select a facial treatment that specifically targets wrinkles look for palmitoyl pentapeptide. (aka Matrixyl in a 3% concentration)
Restore overall skin health and stimulate the rejuvenation process incorporate a powerful antioxidant such as vitamin C Ester, coenzyme Q10, alpha lipoic acid, allantoin, spin trap, green tea, etc.
To firm sagging skin use a hyaluronic acid or DMAE product.
To address all of these aging skin concerns simply integrate each of these treatments into your daily skin care regimen by using the layering technique.
New eGuide!
Introducing the. . . Ta Da!
"How to Start Your Own Natural Skin Care Routine" eGuide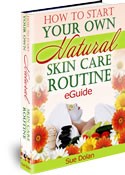 Our extremely popular natural skin care ecourse has now been transformed into a much more comprehensive step-by-step eGuide on "How to Start Your Own Natural Skin Care Routine".
Thanks to you all, I might add...! :-)
This new Natural Skin Care eGuide also features chapters on making your own natural remedies to treat the three most frustrating and chronic aging skin concerns: acne, rosacea and dry skin.
As an extra special and hearty Thank You! subscribers to the Skinsational News receive a top secret discount code. Simply use the discount code: Skinsational when you place your order and get 50% off the list price!
Next Month. . .
, The April Newsletter will have you Springing into Action: Transitioning Your Skin Care Routine from Winter to Summer.

Have a beauty filled day!
Until next month. . .

Skinsationally Yours,
Sue

* * *