It's Skinsational News!
You are the very first to know. . .
As I promised I am sending you a special issue of the Skinsational News to tell you ~ drum roll please ~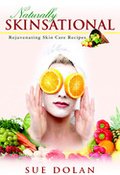 The ever popular Anti-Aging Skin Care book has hit the BIG time!
Our unique anti-aging skin care recipe book is now available in paperback on Amazon.com!
Do we hear wild applause? So many of the visitors to the Skin Care Resource Center have waited almost a year for this huge release.
Wait no more!
It's time to get out your mixing bowls and start whipping up your own rejuvenating "neutraceuticals" that will effectively treat your aging skin concerns.
Put the medicinal and holistic power of all natural substances to work on your wrinkles, age spots and sagging skin. Mother Nature has provided a bounty of very common natural ingredients that are amazingly effective in treating aging skin issues.
This is the first skin care recipe book that focuses on the powerful natural rejuvenating properties of common ingredients that you already have in your pantry and refrigerator.
Each and every skin care recipe is so quick and easy that anyone can make one in just a few minutes. (You'll save a ton of money too by making your own anti-aging skin treatments!)
Get your copy today: Naturally Skinsational ~ Rejuvenating Skin Care Recipes
Your skin is going to look younger, healthier and absolutely Skinsational!
Enjoy. . .
Skinsationally Yours,
Sue
Sue@skincareresourcecenter.com

P.S. A huge and hearty thanks to all of you who have taken the time to send along such great emails and encouraging us to get this book published in paperback form.

We deeply appreciate your support, your patience in waiting for what seems like forever while we worked on the publishing requirements for the paperback and for all of your kind comments along the way!

You all are truly the best visitors a website could ever have. Our most heartfelt thanks to you all!

(. . .and if you have a minute, it would be wonderful if you would post a short review of the book on Amazon.com. Thanks so much!)
* * * * *