Hi,


It's Your Skinsational News!
Welcome to your September edition of Skinsational topics that will keep your skin looking younger, healthier, and absolutely gorgeous!

(. . .and be sure to share the Skinsational News! by forwarding these newsletters along to your friends. Thanks!)

September Issue At-A-Glance:

Feature Article: Do you Listen to Mother Nature?
Beauty Tip: Use your Wand to Create some Magic
Your Top Secret Facial Treat of the Month: Rejuvenating Facial Frappe
Skin Care Technique: Extractions
Skin Care Product Review: Begin Your Regimen with Retinol!
Listen to Mother Nature!
Do you listen to Mother Nature at all?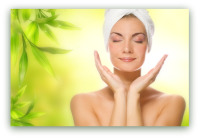 Many of the best rejuvenating ingredients come directly from organic substances found in nature, (and in your kitchen cupboards!)
With the latest skin care innovations marketed as "neutraceuticals", the scientists that study the most effective anti-aging ingredients continue to turn to substances that naturally occur in nature.
We've all heard the term "cosmeticeuticals" which introduced a treatment benefit into cosmetics and skin care products. Now the skin care industry is evolving to embrace "neutraceuticals".
Neutraceuticals can be summarized as the use of natural substances with medicinal properties that promote health benefits. These natural ingredients are selected for their attributes and properties to treat or prevent a range of diseases, afflictions, or conditions.
The Neutraceuticals industry looks to Mother Nature to put results into facial rejuvenation treatments by focusing on formulations that use the powerful anti-aging properties of natural substances. (Pssst. . . Don't tell anyone but you can make your own anti-aging skin care treatments that are as effective as "neutraceuticals".)
Making a few of your own organic skin treatments a few times a week to use along side over-the-counter anti-aging products benefits your skin in a myriad of different ways.
The rejuvenating properties of ingredients found in nature work extraordinarily well in treating wrinkles, age spots and firming skin; not to mention restoring the overall health of skin.
The added bonus of making some of your own skin care treatments is the ridiculous savings you will realize along with great results.
The key is to select the organic ingredients that have
natural anti-aging properties.
If you want to learn how to start your own natural anti-aging skin care routine, feel free to sign-up for our free ecourse:
How to Start Your Own Natural Skin Care Routine
- or - Go ahead and get Naturally Skinsational! :-)
(eBook or Paperback)
It's not surprising that clinical trials substantiate that nature has a bountiful supply and an amazing array of natural substances that promote skin health and rejuvenation. The utilization of natural ingredients is now becoming the cornerstone of the skin care industry when formulating effective anti-aging skin care treatments.
Of course, there are times when it is nice to turn to an all natural OTC treatment when making your own just isn't an option.
My personal favorite is the Manuka Sea Natural Organic Skin Care line because it combines the natural healing, antioxidant and nutritional properties of honey, seaweed and coconut oil into one emollient rich and restoring treatment.
Listen to your skin (and Mother Nature). . . It will tell you what it needs the most!
Use your Wand to Create some Magic
You'd think that after decades of applying mascara I would have learned this trick by now. (Geesh!) This exceedingly simple tip really works wonders in keeping eyelashes separated, looking longer and much lusher.
All you need to do is jiggle and wiggle your mascara wand back and forth at the base of the lash before you sweep the wand upwards! Then you use the very tip of the wand to build out the inner and outer lashes.
Remember to replace your mascara every three months. This will help keep your lashes healthier and prevent them from drying out and breaking.
For those with sparse, short, stubby lashes (like mine were) and are interested in promoting longer lash growth, I followed Angie's advice after she shared her review of Revitalash on the skin care forum and am quite pleased with my results.
I've used Revitalash for the past few years and while I haven't had the dramatic lash lengthening effects that others report, my lashes are quite a bit thicker, a little darker and certainly much longer. As a fair skin blond who had nearly white, invisible eyelashes Revitalash has made a vast improvement.
Rejuvenating Facial Frappe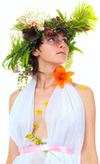 As summer comes to a close set aside 20 minutes for a gentle, soothing, healing facial that will restore hydration and work to repair sun damage.
1/4 cup plain yogurt (I like using the Greek variety since it is a bit thicker)
2 to 3 tablespoons of oatmeal
Several leaves of fresh mint
1 teaspoon of organic coconut oil
Whip all ingredients in a mini-food processor or blender until thick, smooth and creamy. Apply to the skin for 20 to 30 minutes. Rinse off with warm water.




Vitamin A
Vitamin A, Retinol, is one of cornerstones of an effective anti-aging regimen. (A "must" have in my book!)

Retinol is one of the most effective, clinically proven anti-aging treatments you can use to rejuvenate your skin.

Important Note: Be sure to carefully read the directions of the product first, because many skin types can become very irritated, very quickly if the treatment isn't started slowly in order to allow the skin to build up tolerance.

An effective concentration of retinol, the active anti-aging ingredient in a product that you select, should be at least .3% to .6%.
Do not use a retinol product over 1% concentration unless it has been prescribed by your Doctor!
As there are several different forms of vitamin A, you will need to select the strength and vitamin A derivative that is best suited for your skin type.
Extractions
A regimen that includes regular facial steams followed by a gentle scrub then a refreshing, skin tightening toner works wonders in clearing clogged pores and reducing acne outbreaks.

But if you do need to perform an occasional extraction be very gentle and careful! Remember that aging skin takes longer to heal, is less resilient and far more delicate than younger skin.

To treat the infected area, start by soaking a cotton ball in hydrogen peroxide and apply for a few minutes several times a day. (Don't worry if you notice that the skin turns white. The effect only lasts for a short time.) This will help kill the bacteria, dry, and draw out the infection.

Prior to squeezing pimples or clogged pores (called ker-atin plugs) from your pores, give yourself a herbal facial steam or apply a warm face cloth for several minutes to the affected area.

Use very gentle pressure using the fleshy part of your finger tip, NOT the finger nail to remove the gunk that has built up in your pores or to relieve the pain of one of those very inflamed pimples. Repeat the process in the morning and in the evening until the pore readily releases the clog.





Next Month. . .
, The October Newsletter explores how to "Peel It Off" in order to stimulate skin cell renewal so don't miss it!




Have a beauty filled day!
Until next month. . .

Skinsationally Yours,
Sue

* * *