Hi,


It's Your Skinsational News!
OOPS!
*Gulp* As many of you so kindly let me know, I messed up on the newsletter last week and forgot to include the article on longer, thicker lashes.
I'm so sorry about that!
Though I wasn't too surprised to learn that having longer, thicker eyelashes is a desire that many of you were looking forward to learning how to accomplish. As a fair skin blonde with very fine, nearly white eyelashes I personally won't even venture out of the house to do yard work without swiping on some mascara because I'd feel completely naked!
These are two products that I personally use with excellent results.
I've used the Revitalash Enhancer for almost two years now which has worked to lengthen and filled out my lashes. (It hasn't given me those extraordinarily long, lush, extra thick lashes that we all drool over but since I started out with such sparse eyelashes, I have been really pleased with the results.)
Although it is pricey, I can tell you that I'm still using the first tube I bought over two years ago and it still seems full! (Well, I can hear that there is plenty left when I shake the tube.) Now I'm wondering if it might last forever! :-)
I just started using the new mascara by Revitalash a month ago. (Previously, I have always used the cheapest available since I've never really noticed a big difference in brands. . . why spend the extra money if you don't see a big difference?)
Well, I'm also liking the Revitalash mascara alot!
It goes on smoothly with just a few swipes without any clumping or flaking at all. My eyelashes stay soft rather than getting all crunchy too.
So here it is that wayward article:
Revitalash Promotes Longer, Thicker Eyelashes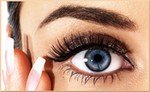 If you are like Jaz, spending the better part of your adult life searching for the perfect mascara. . . you know, the one that makes your lashes longer and thicker without clumping, smudging, flaking or turning your lashes into stiff little spikes then you will undoubtedly enjoy her comments on Revitalash's new mascara.
(Thanks Jaz, when I read your review I gave it a try and concur- it's a good choice!)
Jaz posted her review on the Beauty Tips Forum:
Revitalash Mascara: Longer, Thicker Eyelashes !
The inventor of the original eyelash enhancer (the one that doesn't discolor you irises or eyelid like the side effects can of some others brands), Revitalash now has introduced a mascara.
Here's what Angie has to say in her consumer review of Revitalash Products… Revitalash Product Review
, until next month's feature of. . .
"The Battle of the Brands!"

Have a Skinsational Day,
Sue


Don't forget to bookmark the Skin Care Resource Center's Anti-Aging Skin Care Blog and visit us frequently. You don't want to miss out on valuable skin care news or the hints and tips that are published every day!

(. . .and be sure to share the Skinsational News! by forwarding these newsletters along to your friends. Thanks!)
* * *