Hi,


It's Your Skinsational News!
Welcome to your November edition of Skinsational topics that will keep your skin looking younger, healthier, and absolutely gorgeous!

November Issue At-A-Glance:

Special Feature: The Dynamic Skin Care Duo
Beauty Tip: Growing Whiskers?
Your Top Secret Facial Treat of the Month:
It's "Spooktacular!" The Boo Berry Facial
Skin Care Product Review: Need a Lift? Try DMAE
Monthly "Steals and Deals": NEW Feature! Free Beauty Samples
Hello Everyone!
I have some Skinsational changes to announce to the monthly newsletter!

I'm finally implementing revisions based upon the feedback I received over the past several months to better suit everyone's busy schedule.

Like you, I work full-time (in child protective services), have a busy family life, and also work to keep the Skin Care Resource Center website up-to-date. My goal with the revised format is to keep each newsletter short and sweet while continuing to provide all the riveting monthly skin care highlights you've come to expect.

So here's the plan:
There will be a short summary of each rejuvenating topic with a link that will guide you to the full article. That way you can read at your leisure and still get all the news and special reviews on the anti-aging skin care.

Will you let me know what you think of the changes?

I created a special page with a quick survey so you can easily share your feedback on the new format along with your ideas for future topics. If you have an extra minute please share your thoughts:
Your Skinsational Feedback

Thanks! After all, this newsletter is for all of you and I want to be sure that it provides everything that you are interested in knowing about in rejuvenating you skin and looking your best at any age!

Skinsationally,
Sue


Current cosmeticeutical news reports what many have believed for years. Recent studies establish a clear scientific correlation between protecting and actually healing facial skin from the damaging effects of the sun by using a combination of sunscreen and antioxidants.
Sunscreens filter the damaging rays from the sun, reducing the activity of free radicals while antioxidants such as Vitamin C, Co-Q10, Spin Trap, and Copper Peptides actually work to further protect as well as to actually heal the skin.
Antioxidants and sunscreen, "The Dynamic Duo", is an essential component in any skin rejuvenation regimen.
Learn more:
Antioxidant Skin Care Facts
Proactive Skin Care: The Power of Antioxidants and Sunscreen
That's Not a Hair on My Chinny Chin Chin ~ Is It?
. . . and it's not just any hair either. It's more of a long, white whisker! Just like the ones that seem to sprout randomly and with wild abandon only on people who are ancient. . . or on wild boars.
What's it doing invading your chin?
Age! Just another sign of age. . .
Try out a few of the quick and easy beauty tips to help outsmart those whiskers and address those other maddening aging concerns as they appear:
More Wrinkles, Whiskers and Bags ~ Oh My!
Quick and Easy Aging Beauty Tips
The Boo Berry Peel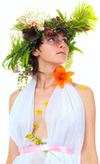 Hey Natural Skin Care Fans,

It's time to dust off your cauldrons and brew yourself a rejuvenating facial!
This is a Spooktacular natural skin care recipe that's as fun to make as it is great for nourishing your aging skin.
. . . and it's just perfect for wart and wrinkle infestations!
Anti-Aging Remedies: Fruit Acid Skin Firming Facial Recipe
Need a Lift? Put DMAE in the Driver's Seat
D*MN! Your skin has started to sag. . .

Although it is a natural part of the aging process, it is certainly discouraging when those jowls take on that droopy look.

Firm sagging skin and improve skin elasticity with DMAE cream. It does take time though, so be patient and persistent!
Skin Firming Treatments:

DMAE: Firm and Lift
Hyaluronic Acid: Plump
Agreline: Tighten
NuSkin:NuSkin Galvanic Facial
NuFace: NuFace Toning Device<
How to Fill-Up Your Beauty Toolbox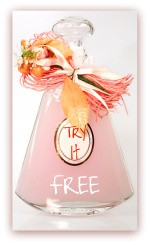 It's gotta be the best rejuvenation technique of all time.

NEW! Free Beauty Samples

What's better than Free Beauty Samples along with learning about the best Skin Care Beauty Steals and Deals of the month?

With the holiday season rapidly approaching, the freebie offers, bargains and discounts are coming in fast and furiously.

So, I thought it would be a great idea to share the best of the offers with you each and every month from here on in.

I'll dedicate a section of each newsletter to the hottest skin care steals and deals of the month right here:



Next Month. . .
, The December Newsletter is shaping up to be a Skin Care Shopaholic's dream come true!
"Make a Holiday Skin Care Wish!",



Have a beauty filled day!
Until next month. . .

Skinsationally Yours,
Sue

* * *