Hi,


It's Your Skinsational News!
Welcome to your August edition of Skinsational topics that will keep your skin looking younger, healthier, and absolutely gorgeous!

(. . .and be sure to share the Skinsational News! by forwarding these newsletters along to your friends. Thanks!)

August Issue At-A-Glance:

Feature Article: Hot Flash! Menopausal Skin Care
Beauty Tip: How Hyaluronic Acid Works to Rejuvenate Aging Skin
Your Top Secret Facial Treat of the Month: Soothing Goats Milk Skin Care Recipes!
Skin Care Product Review: Check your Bags! New Triple Peptide Formula for Under Eye Issues
Skin Care Technique: The Best Anti-Aging Skin Care Products by Active Ingredient
Hot Flash! Menopausal Skin Care
It's bad enough that your body has been possessed by an intermittent raging inferno but when you begin to notice the havoc that menopause has upon your skin then its past time to take action!

You can either hide from the fact that your skin is beginning to show the signs of aging or take a proactive approach!
Post 40 something skin has a variety of needs, particularly as pre-menopausal symptoms begin. This is the time to assess your skin care needs and proactively revise your daily skin care routine to include products that are specifically formulated for aging skin concerns.
Your skin, especially on your face, will provide you with very important clues to what it needs the most!
The changes in hormone levels during menopause will typically exhibit skin symptoms such as increased dryness, reduced elasticity, evidence of past sun damage and thinning of the skin.

Peri, Post and Menopausal skin requires:
1. Additional hydration to prevent dryness and to seal in moisture both externally with the use of vitamin rich moisturizers or natural oils and internally with fluid intake.

2. Increased protection from the sun and other environmental factors.

3. A healthy diet and exercise to increase circulation which will improve overall skin tone and feed the skin the additional nutritional requirements it needs from within!

4. Increase use of antioxidants in both diet and skin products work to not only reduce free radical activity which destroys cells but also serves to protect the skin from future free radical damage.
As the now famous dermatologist-researcher-pharmacist, Dr. Murad explains, "As a dermatologist, I frequently see patients concerned about maturing skin and the unwanted signs associated with the aging process. After careful evaluation, I discovered that there are 3 key components that affect the skin's aging process in women: Intrinsic Aging (genetics), Environmental Aging (sun damage, pollution, stress, poor diet, alcohol...) and Hormonal Aging (decline in estrogen)."

Dr. Murad concludes that a comprehensive skin care regimen targeted to the specific needs of the menopausal woman that features a combination of topical products with proven anti-aging ingredients is essential to maintaining skin health and younger more vibrant skin. As a result of his research, Dr. Murad has developed his own skin care line. Here is a comprehensive list of the proven skin rejuvenation treatments with the active anti-aging ingredients clinically proven to effectively treat aging skin symptoms.

By adding just a few carefully selected treatments combined with the layering technique works to produce much better results and healthier skin:
The Best Skin Care Products for Aging Skin Concerns




How Hyaluronic Acid Works to Rejuvenate Aging Skin
Skin care products which effectively rejuvenate aging skin can be like finding a needle in a haystack. Happily, with advances in science the options are improving dramatically!
Most people know of hyaluronic acid as the ingredient in the injected wrinkle fillers like Juvederm, but at an average of $600 a syringe they are exorbitantly expensive.
Unlike rejuvenation treatments that include collagen as an active ingredient, HA has the ability to be readily absorbed by the skin which increases the effectiveness in reducing the appearance of fine lines and wrinkles as well as to firm sagging skin, restore elasticity and skin tone.
HA also serves as an efficient "carrier" of other anti-aging ingredients to the cellular level of the skin.
As a result, hyaluronic acid has become a preferred facial rejuvenation treatment over most topical collagen products.
Soothing Goats Milk Facial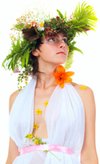 Maria submitted a wonderful recipe for an all natural Goat Milk facial that infuses the skin with a wonderful array of vitamins and nutrition while moisturizing even the most sensitive, dry skin types.
It's easy to do-it-yourself too!
Goats Milk Natural Beauty Recipes
Maria explains all there is to know about the rejuvenating properties of goat milk skin care.
She even makes her own goat milk soap from scratch!
Check your Bags with Eyeliss!
Eyeliss is a new triple peptide formula that works to reduce under eye bags and puffiness by:
Improving the vascular circulation in the under eye area

Minimizing capillary permeability which prevents the leakage of fluids

Promoting the drainage of excess fluids which collect under the eye which reduces under eye puffiness

Reducing inflammation

Preventing tissue damage

Firms and tones the delicate under eye skin to diminish fine lines and wrinkles
The Best Anti-Aging Skin Care Products by Active Ingredient
We've just updated and revised the comprehensive listing that we keep on the best treatments for aging skin by clinically proven ingredients.

Everyone has different aging skin concerns that range from fine lines to wrinkles, dark under eye circles to sagging skin and the host of other aging skin conditions.

Most symptoms of aging skin requires a specific treatment in order to get the best results. Therefore, knowing which active anti-aging ingredient works for each aging skin symptom is very important.

Updated listing for: The Best Skin Care Products by Clinically Proven Active Anti-Aging Ingredient



Next Month. . .
, The September Newsletter explores a natural approach of caring for aging skin concerns; Skin Care the Natural Way so don't miss it!




Have a beauty filled day!
Until next month. . .

Skinsationally Yours,
Sue

* * *