Retinyl Palmitate Vitamin A
One of the most Effective Anti-Aging Skin Care Treatments
Retinyl palmitate, a form of vitamin A, is an extremely popular anti-aging ingredient as an alternative to tretinoin and retinol because it is a gentler, more mild vitamin A option.
Retinyl Palmitate vitamin A treatments have demonstrated similar success when compared to retinol in rejuvenating aging skin.

Retinyl palmitate is a retinoid derived from vitamin A. 
When absorbed by skin, it is converted into retinoic acid, an active form of vitamin A, providing a range of benefits for not only treating aging skin symptoms but acne as well.
For aging skin, this form of topical vitamin  A supports both the production and prevents the breakdown of collagen, working to maintain the structure, firmness and suppleness of skin. 
Retinyl palmitate also helps fade the appearance of age spots and other forms of skin discoloration by accelerating the rate of skin cell turnover.

---
Retinyl Palmitate is less irritating to the skin than the other forms of vitamin A.
---

Here's a great "cheat-cheat" for you to refer to when selecting an over-the-counter retinyl palmitate vitamin a treatment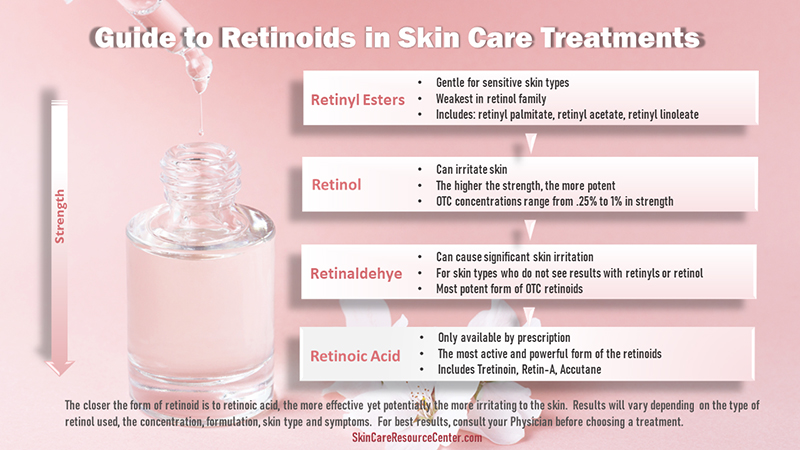 Retinyl palmitate vitamin A skin care treatments are available in a variety of different formulations.   Be sure to select a product best suited for your specific skin type.

Moisturizing creams contain hydrating ingredients, best suited for dry, sensitive skin types.
Gel formulations can be absorbed into the skin more quickly making them a good choice for acne-prone skin types.
Serums are lightweight and typically water-based, ideal for normal to oily skin types


Retinyl palmitate shares many characteristic with retinol. Neither is a retonic acid like tretinoin, instead these vitamin A derivatives convert to retonic acid when absorbed by skin cells.
Many retinyl palmitate products include an ingredient that will help promote the skin's ability to help the skin absorb and "deliver" the vitamin A to the cells such as liposome.

Retinyl palmitate shares the rejuvenating effects of the other vitamin A treatments by:

stimulating skin repair
increasing collagen production
increasing skin thickness
improving elasticity
improving skin texture
improving skin tone
reducing the occurrences of blemishes
decreasing enlarged pores
As an added bonus, retinyl palmitate also diminishes acne outbreaks, sharing the characteristics of both tretinoin and retinol as an effective acne fighter!
---
The "Vitamin A's"- Retinol, Tretinoin, and Retinyl Palmitate which are forms or derivatives of Vitamin A are considered highly effective in the treatment of aging skin.
---

QUICK TIP:
Be sure to read the product's ingredient label to determine the type and concentration included in the formulation!
Clinical studies have indicated that Retinyl Palmitate achieves similar rejuvenating results as retinol but is considered to be much gentler skin treatment and is particularly recommended for sensitive skin types.  While it is not as strong as other retinoids and will take longer for visible results, it is a great choice for sensitive skin types or used as a preventative for younger skin.
---
important note. . .
As with any product with a vitamin A ingredient, your skin's sensitivity to the sun will increase significantly so be sure to liberally use your sunscreen!


---
Quick search for retinoid skin care treatments:
Search This Site: