DMAE Products: Skin Eternal DMAE Serum
by Sue
(SkinCareResourceCenter.com)
DMAE firms.
Tightens.
Softens.
Hydrates.
It's simply a wonderful rejuvenation treatment for anyone with sagging or drooping skin. But don't be disappointed because DMAE takes quite awhile to work. Visible results aren't going to be instantaneous.
Give it a good 5 to 6 weeks and you will gradually start to notice that your skin is firmer.
See more great
Beauty Product Reviews
and recommendations for the anti-aging skin care treatments that work!
Shop safe at Amazon
and enjoy free shipping if you spend $25 or more.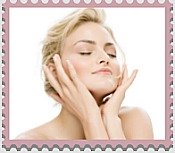 Favorite Beauty, DIY Home Spa and Facial Rejuvenation Treatments: