About Strivectin
the question many ponder. . .
to use or not to use?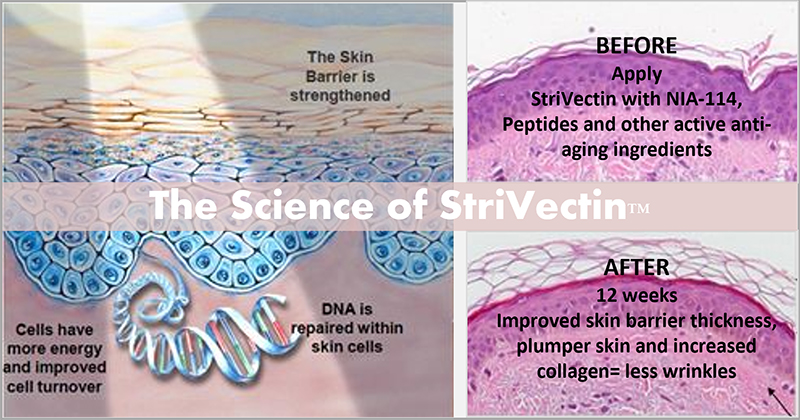 What's the real scoop about using StriVectin as a super-duper effective wrinkle treatment?
There have been more and more independent clinical trials and information that supports the manufacturer claims that Strivectin is revolutionizing the treatment of fine lines and wrinkles as well as other symptoms of aging skin.

Research indicates that StriVectin's original treatment for stretch marks does indeed have a significant impact in promoting younger looking skin.

Who doesn't want younger looking skin quickly and easily?

StriVectin may be a very important treatment in your rejuvenation regime.  But remember. . .

There isn't any single facial rejuvenation product that can miraculously eliminate wrinkles or create a youthful look instantaneously.  

It takes TIME to achieve young looking skin!

The active anti-aging ingredients in StriVectin-SD are:
NIA-114 molecule, Peptides, Aloe Vera, Resveratrol, Hyaluronic Acid, Glycerin, Shea Butter, Laureth-7, Green Bean extract, Ginger Root extract

There certainly is ample evidence and a loyal following of consumers to support claims about StriVectin's profound rejuvenating effects.

Clinical studies have suggested that StriVectin's patented molecule, NIA-114, (a form of niacin), help protect the skin from sun damage.  Other forms of the niacin molecule are studied as a potential effective additive cancer treatments.
In StriVectin anti-aging treatments, the NIA-114 molecule is combined with other proven rejuvenating active ingredients like Collagex-CE, (a complex of collagen), Hyaluronic Acid for hydration, Aloe Vera for its' moisturizing properties, and Shea Butter as a highly effective emollient.
---
Not a bad line up at all for powerful active anti-aging ingredients, is it?

---
 
these treatments that are all about StriVectin:
---
other Visitor Favorite Topics
---
Search for other anti-aging treatments with a specific skin rejuvenation ingredient. . .


Quick Search: